On December 29, Gov. Phil Murphy and Interim Commissioner of the New Jersey Department of Veterans Affairs (DMAVA) Col. Lisa Hou, D.O. announced that COVID-19 vaccinations are underway for residents and staff of the State's three veterans memorial homes.
Under the federal Pharmacy Partnership Program, residents and staff who so choose will be vaccinated for COVID-19 at the Paramus, Vineland, and Menlo Park Veterans Memorial Homes. Vaccinations began on December 28 in Paramus, and on January 1 and 5 in Vineland and Menlo Park, respectively.
Residents and staff will receive the 2nd dose of the vaccines three weeks after the first dose.
"Our veterans were there for us in our time of greatest need," said Murphy. "Now it is our turn to protect them with the distribution of lifesaving COVID-19 vaccines. While this pandemic is far from over, these vaccines will undoubtedly reduce the risk of severe illness or death among the residents of our veterans memorial homes."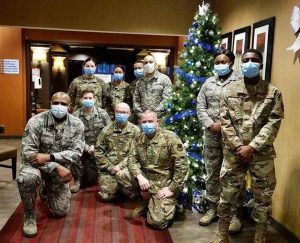 "The immense relief is palpable," said Lisa Hou, D.O., interim commissioner of the New Jersey Department of Military and Veterans Affairs. "For our veterans, our staff, and our National Guard members on duty, we have nothing but gratitude for the tireless work of the medical and scientific communities who have cracked the coronavirus code. COVID-19 has disrupted everyday life to an almost unfathomable degree. Department staff, Soldiers, and Airmen have worked around the clock for the health and comfort of our veterans and their families. With an efficacious vaccine against this deadly virus, we finally have the strongest tool to bring some relief to our homes."
"New Jersey's Veterans Homes have been hit particularly hard during this pandemic," said Department of Health Commissioner Judith Persichilli. "As we roll out vaccinations to veteran homes' residents and staff, we are continuing our efforts to help protect some of the state's most vulnerable populations."