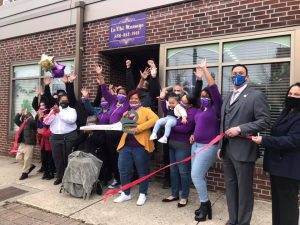 With the COVID pandemic crisis causing challenging economic times for the business sector across the country, who would have thought of new businesses braving the hardships and actually having ribbon-cutting grand openings?
That is actually what happened in downtown Vineland—The Ave—as Main Street Vineland celebrated six ribbon-cuttings for businesses along Landis Avenue recently.
These businesses join others that have opened during the pandemic, with other ribbon-cuttings scheduled in the upcoming months.
"It is solid evidence of the resiliency of our downtown and the strength of our business climate," said Main Street Vineland Executive Director Russell Swanson. "I cannot tell you how proud I am of our businesses on the Ave—those that have continued to serve the pubic during these tough times and the new businesses that we are celebrating."
La'Chi Massage & Restorative Therapy, at 651 E. Landis Avenue, Suite 5, opened late last year. Owner LaToya Jones stuck out the high point of the pandemic and her business now is growing. For more information on the business, call them at 856-982-1961 or visit their website at LaChi-Restorative.com.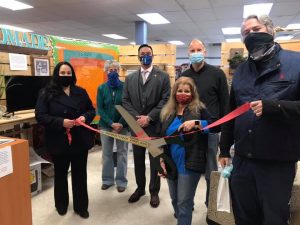 Two new businesses—Pure Eco Life and First Lady's—have joined the over 60 businesses in The Spot, downtown Vineland's indoor craft, boutique, antique, and shoptique mall, at 618 E. Landis Avenue. Pure Eco Life deals in technology that kills the COVID virus, while first Lady's sells collectables.
The Spot's manager, Robin Hope, sees these stores are part of the ongoing growth of the mall.
A factor that makes The Spot attractive to customers for all concerned is the central check-out that takes the time and responsibility away from the shop owner and makes it easier for the customers. For more information, call The Spot at 856-839-2825, visit their website at spotattheave.com, or visit their Facebook page.
Horizon America Staffing Services, located at 606 E. Landis Avenue, first opened on the 300 block seven years ago, moving to their present location this time last year.
With offices in several states, 80 to 100 jobs open, and engaging 1,000 employees a week, they specialize in light industrial jobs, including in the food industry. A lot of the employees are essential workers. Owner Jorge Merinos said that a lot of his staff is from Vineland. For more information on Horizon America Staffing Services, call them at 856-839-2095 or visit their website at horizonamericastaffing.com.
Angelique and Kemar Robinson opened Sher's Hair Empire at 316 W. Landis Avenue in November. Angelique started during the pandemic by making wigs at home and then expanded to create a website, open the store, and use social media.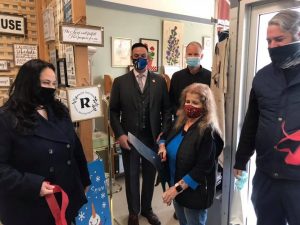 The store deals in hair care supplies such as dyes and colors, as well as hair boutique bundles. Angelique said that she wanted to deal in hair supplies that were unique and that could not be found elsewhere locally. Since then, she said, business spread by word-of-mouth. For more information, call them at 856-503-6909 or visit their website at shershe.com.
Cumberland Air Solutions, at 45 W. Landis Avenue, is a distribution office for a multi-national company that manufacturers a line of products that reduce or eliminate air pollutants, including The Rainbow."
Located in Vineland for 15 years, the company was originally at Park and West avenues before moving to The Ave. According to manager Bobby DeMasse, training and development is done in Vineland for the company's Deptford locations. For more information, call them at 856-641-0860.
New Jersey Senator Michael Testa who, with Main Street Vineland and City officials attended the ribbon-cuttings, complimented and thanked the businesses for taking the risk to open up during the pandemic and creating success stories.
"It was a risk, but you turned the challenge into a success story," Testa said. "We look forward to seeing more such success stories gracing downtown Vineland."