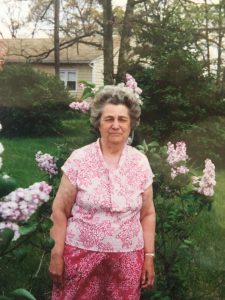 May is for mothers, and for me it's always been that way. My mother's birthday is on May Day—May 1st. One of my earliest memories is that of making a May Day basket in school and the teacher telling us how to surprise our moms by hanging it on the front door handle, ringing the doorbell, and hiding around the corner to see her reaction. We fashioned the basket out of construction paper, rolling it into a cone, then carefully placed a few violets in it. I felt special because it was more than a May Day surprise for my mom, it was a birthday surprise, too.
I've missed a few years along the way, and the violets are more often lilacs but the tradition has held a special place in our hearts and is a bond Mom and I have treasured. I was all set to take lilacs from our garden to her this year, feeling so blessed that she has rallied since being on hospice these last two months. That's why Stephanie Farrell's cover story, right from the first sentence, brought tears to my eyes as we were putting this issue together.
And then I got the news that Mom, on Friday morning, one day shy of her 97th birthday, had passed away. I encourage you to read "A Mother's Legacy," touching stories of how some people you may know treasure their mothers who have passed on, the examples they set, the memories they inspire, and the words that still echo through time.