As humanity starts to look at itself in the mirror and notice its flaws, it can also take solace in the beauty that is inherently within.
That beauty is revealed, for example, by people who take pride in their communities, who do their best to bring everyone together, and who take the time to educate the youth on the essence of human equality and justice.
Through his 4th annual Players vs Drugs, Guns & Gangs flag football event, JT Burks of Millville is one of those people in whom human beings of all cultures and ethnicities might want to model themselves.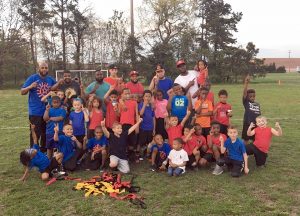 Burks, a Gouldtown native, will be throwing this community bridge building event on Saturday, August 15. It was rescheduled from its original June date because of the pandemic.
To paraphrase ODB from the legendary Wu-Tang Clan member's Grammy Award-interrupting speech in the 1990s, JT Burks is for the children.
"It was just to start … a culture of letting the kids know that it's cool to do something positive as a group from different backgrounds and different parts of the city," Burks, a Millville resident, explains as his motivation in starting the event.
"So, it was about just gathering kids from all the cities that we can, different walks of life, different parts of the city to challenge people to come out of their comfort zone, so to speak."
Diversity and inclusivity are just two of the reasons why Burks is attempting to bring the community together at his annual sporting event.
"I wanted to create something that we promote to bring everybody out to let them see that we can come together and
do something positive without it being drama," Burks says.
Burks, who grew up in the projects, says his main aim is to teach children to learn how to love instead of hate before they get caught up in a world that mostly leads to imprisonment, drug addiction, suffering, or even death.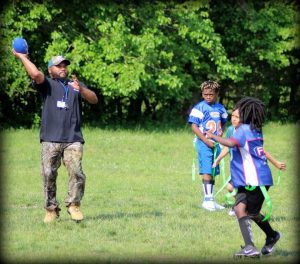 "The reason why I wanted to start with the youth is … I've seen how at a young age [gangs] start the recruitment process," Burks reveals. "So, I said … let me get ahead of the curve to bring awareness to guns, drugs, and gangs at an earlier age before they get to that age where they get recruited."
Burks, who runs a nonprofit organization called Positive Vibes Community Group, believes that if you start talking to children about the negative impact of drugs and gangs around the age of eight, they can be steered onto a path that will lead to happiness and success.
The Players vs Drugs, Guns & Gangs 4 flag football event isn't just a game. It's a way to instill confidence and love for community in children through education and comradery.
A week before the event, Burks has the children, the parents, and coaches participate in a meet-and-greet. Then the night before the game, they all join in a team dinner where they can socialize and get to know each other better.
He's also brought in speakers who have lived the drugs, guns, and gang life to drop knowledge on the children about the dangers of going down that path.
Additionally, "we may bring in community activists who see it from both sides, lawyers who see it from both sides," Burks says.
Unfortunately, similar to many events scheduled to take place in this era of the global pandemic, there are going to be some restrictions and alterations to the original game plan.
On the day the interview with Burks took place, Governor Phil Murphy announced a new mandate that requires all New Jersey residents to wear face coverings outside if they can't find a way to distance themselves socially.
"With him signing it today, it's going to put an extra damper on it," says Burks. "I'm hoping with this new guideline … we don't have to end up postponing it again."
Burks, who also has a show on QBC TV 22, called "Catching Up with Coach," is already thinking of adjustments he may have to make to keep the event fun and safe for all.
"The best way I feel … is just hand sanitizing and wearing a mask. And just making sure that … we keep a safe distance between … the players, coaches and everybody. And minimize the team celebrations, as far as handshakes, fist bumps and all that type of stuff."
However it all plays out, like in years past, the event has an opportunity to leave a positive impact on not only the children, but the entire Cumberland County community.
"I hope it just continues to promote … solidarity and unity to … let people know that we don't need extra barriers to keep us separated," says Burks.
"You know, we have enough negativity going on and we have enough of social injustice going on that we have to tackle, so we don't need to continue to compile it with being separated by turf and that type of stuff.
"So, I hope to bring those type[s] of barriers down," he continues, "where … brothers and sisters can just look at each other as human beings.
For more information about the Players vs Drugs Guns and Gangs flag football game and other community events run by Burks, go to Positive Vibes Community Group on Facebook, or call 856-462-2184.