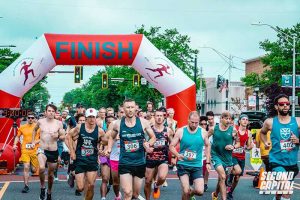 A large field of runners, aided by excellent weather, helped put the third annual Running The Ave 5K, which took place in downtown Vineland on Sunday, June 27, into the record books, with another new course record being set.
The run was organized by Main Street Vineland, in cooperation with Second Capital Running, with Lidl as the major sponsor, and NovaCare Rehabilitation, East Oak Animal Hospital, and Atlantic County Utilities Authority (ACUA) as additional sponsors.
The winners were:
Winner: Tom Cooke, 26, of Glassboro, with a time of 16 min. 14 sec.—a new course record by 3 seconds.
First Female Finisher: Victoria Thaler, 25, of Millville, took the prize of top female for the second year in a row with a time of 20 min. 23 sec.
Vineland's Fastest Finisher: Joshua Arocho, 33, with a time of 19 min. 12 sec.
True Grit Award (last place finisher—"to celebrate the spirit of never giving up"): Beverly Jeffries, 70, of Williamstown.
The race also boasted a large showing of youth runners, with almost 30 percent of participants under the age of 18, many of them from the Vineland Youth Running Club.
For this sanctioned race, Vineland's downtown business district was transformed into a magnificent 5K course, which included a run through beautiful Landis Park. Signs painted by a Vineland High School art class encouraged the runners as they traversed the course.
"This race did Vineland and The Ave proud. The tremendous response was an indicator of people wanting to get back to normal," said Main Street Vineland Executive Director Russell Swanson. "Event coordinator Andre Rivera, of Second Capital Running, was, again, the strong leading light for this project, from start to finish, and making it a fun, competitive, safe event. This event maintains its place as a key part of Main Street Vineland's summer season on The Ave."
For more on Main Street Vineland programs and events, call their office at 856-794-8653, visit their website at TheAve.biz, or their Facebook page.