Excerpted from January 3, 2022 message to the community, inspirahealthnetwork.org/covid19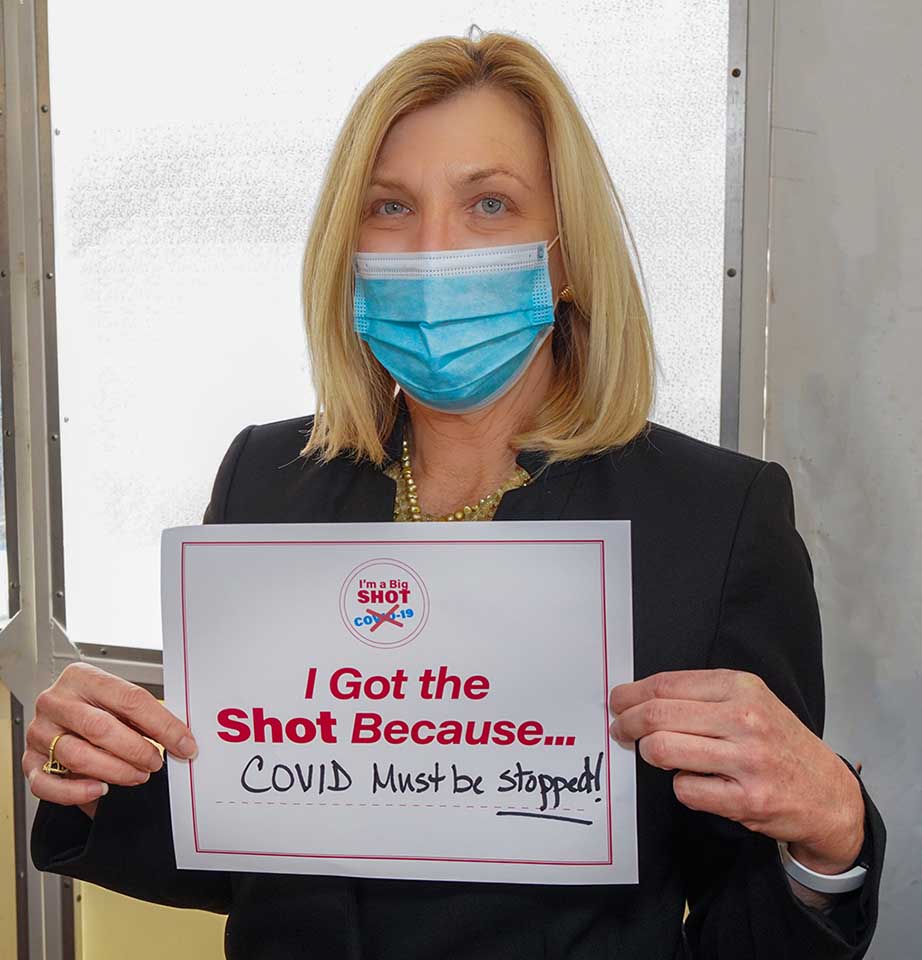 Hello, I'm hopeful that you had a good New Year's. Certainly, we in the healthcare industry welcomed it in with a bang. We have seen more volume than we could ever have imagined in our hospitals and throughout our entire system. We've seen many of you fall victim to COVID….
Yesterday, 25,000 cases in New Jersey were determined positive. Our transmission rate is 1.77. Remember, the goal is to be under one. We have over 4,000 people in our hospitals, and we are seeing people coming in to the hospitals sicker and sicker.
There's a huge demand for testing and I certainly have heard from you very clearly on our social media, as well as stopping me in the grocery store and in church and telling me how frustrating it is not to get testing. The reality is that there is no way to be able to staff accordingly, given that … because our staff live in the community, they're sick as well. So we are trying to pivot and move people and adjust as the situation requires, but at the end of the day, I hear your frustration and I am sorry for that.
We continue to remain open with our vaccine tents and you'll see the hours on our website. We continue to try and meet the demand of the vaccines and the booster, as well as trying to think about new ways to be able to address testing…. The highest priority is that we have to keep our staff safe in order to be able to be available to care for patients. And if we can't care for you in the most difficult setting, which is our inpatient setting at this point, then the fabric of this entire healthcare system begins to fall apart….
The state's data tells us that the surge is going to be anywhere from two to four weeks away, post the holiday time. While this is very bad and the worst that we've seen, it's not as bad as it's going to get…. If the only thing you need is a test, do not come to the emergency rooms. We are absolutely full with people who are really sick and we cannot provide testing out of there.
If indeed you are really sick, come to the emergency room, but understand that we're working under red visitation, which means that only under limited circumstances are you going to be able to have a loved one with you and that then translates obviously into the hospital as well. I know this is scary. I know this is scary for you, it's scary for all of us, as we begin to try and pivot yet again to react to this virus, but we will, because that is what we do and that is our obligation to you and to our broader community.
One of the areas you've been clear about is your frustration around our urgent care centers, and we are having to pivot staffing based upon how many people are out ill and our urgent care centers that are the busiest, trying to make sure we have enough staff there to accommodate the huge influx of people…. Please note that we are going to have to close our busiest [urgent care] centers early, at seven o'clock instead of eight o'clock, just to deal with the huge demand to be able to accommodate everybody. You may also see some pivots within our physician practices, and again, I please urge you to make sure you're checking the website (inspirahealthnetwork.org/covid19) to be able to accommodate all of those changes…. Until we meet again, be well and stay safe.
—Amy Mansue, president and CEO, Inspira Health, inspirahealthnetwork.org/covid19