Every vote counts. Before you mail your ballot or drop it in a ballot box or head to the polls, be informed about your choices. As in previous years, SNJ Today brings you profiles of the candidates. Last week, Cumberland County commissioner and sheriff candidates described where they stand on the issues that affect Cumberland County and the region.
This week, we profile City of Vineland Mayor and Council candidates.
Second Annual Turnout Trophy
Congratulations Millville and Stow Creek — Winners of the 2019 Turnout Trophy.
Millville just edged out Vineland and Stow Creek narrowly defeated the 2018 champion, Shiloh.
This year's contenders for the Turnout Trophy are—well, all of us, no matter where we live in Cumberland County, and whether you vote by mail, by dropping your ballot in a secure ballot drop box, or at a polling location.
Mail-in Ballots
Since the state decided to mail a ballot to every registered voter, New Jerseyans won't have to worry about whether an application for a ballot was received.
The Division of Elections created this site (nj.gov/state/elections/vote-by-mail.shtml) to answer questions about the mail-in voting process.
When will you receive your ballot? Secretary of State Tahesha Way previously said "if it is the second week of October and it hasn't arrived—do something." The state website says you should take action if you don't get one by October 12 by contacting the county clerk.
To count, a mail-in ballot must be postmarked by Election Day and arrive at the county board of elections by November 10.
If you don't want to rely on the U.S. Postal Service, you can also deliver your ballot to the county elections office by 8 p.m. on November 3 or put it in one of the many secure ballot drop boxes. The state plans to have a centralized list of those locations (nj.gov/state/elections/vote-secure-drop-boxes.shtml), but counties are posting their own information.
Board of Education Races in Cumberland County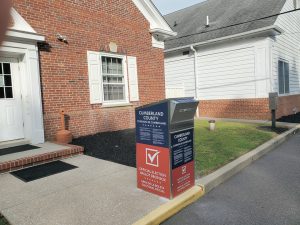 All 14 municipalities in the county will select school board members, with contested races in the largest—Vineland, Bridgeton, and Millville.
Three of nine seats on Vineland's school board are up for at-large general election this year. Vying for three-year terms are incumbents Tom Ulrich, Meghan Spinelli, and Cedric Holmes against challengers Jerold L. Bryant and Dennis Rivera.
In Bridgeton, three seats are open with Ricardo Perez challenging incumbents Albert L. Morgan, Kenny Smith-Bey, Jr., and Erica Williams-Mosley.
Likewise in Millville, four are running to fill three seats—newcomers Marissa Ranello, Stephanie Risley, and Charles Flickinger, as well as incumbent Michael J. Beatty.