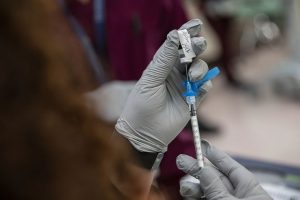 Cumberland County seniors have multiple ways to get a covid vaccination, according to Commissioner Director Joseph Derella.
While the online registration process is the preferred method to schedule a vaccination, seniors who lack the ability to use it still have alternatives.
Eligible Cumberland County individuals over 60 without internet access can call the office on aging for help and the Cumberland Area Transportation System for a ride.
In addition, Vineland seniors can call the City Health Department for similar assistance.
Call 856-453-2220 for the Office on Aging.
Call 856-691-7799 for the bus transportation system.
Call 856-405-4603 between 10 a.m and 1 p.m. for the Vineland Health Department.
Also the State of New Jersey has a vaccine hotline to schedule an appointment with Inspira health or a local cvs, Rite Aid, or ShopRite pharmacy. Call 855-568-0545.
Derella stressed that no senior should go unvaccinated because they are unable to register online. If able to do so, visit cumberlandcountynjvaccination.org/index.php/vaccine/vaccine_availability