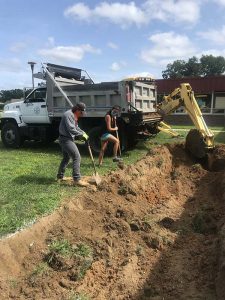 Anthony Rossi Elementary School in Vineland is no stranger to helping the local environment. With the leadership of fourth grade teacher Amber Egorov, the school has won statewide energy saving competitions, planted trees on its campus, and taught students about growing their own vegetables. Now, they have installed two rain gardens that help protect and conserve water, as well as act as an outdoor teaching tool for the students.
The gardens were installed as part of the South Jersey Landscape Makeover Program, a program designed to help improve water quality through better land management. Led by a coalition of eight environmental non-profits, the South Jersey Landscape Makeover Program works with schools, homeowners, farmers, and municipalities to design and install rain gardens and other green infrastructure projects that will help naturally filter and clean polluted stormwater before it reaches our waterways.
Egorov and Principal Carmella Heer helped move the project along by working with the school facilities staff and the program. The onset of COVID in 2020 interfered with their plans to complete the project.
"The process was more complicated because of Covid, and we had to make lots of adjustments. I was a little nervous because it was a lot of work to do without the help of student volunteers, but we did it," said Egorov. "I like to lead by example, and you have to know what your end goal is."
As a result of the school closures due to COVID, the students were no longer able to help install the rain gardens. To keep them engaged, Egorov worked with one of the program partners, the American Littoral Society, to conduct virtual presentations with the students to teach them about the rain gardens.
In the fall of 2020, planting was done with the help of the school's Green Team, Rutgers, the American Littoral Society, and the Association of NJ Environmental Commissions. And, this spring the fourth grade students finally returned to help with spring clean-up of the garden.
"Students help with weeding and feel ownership and a sense of pride when other teachers come out and use the garden as a tool to teach their students about water quality," added Egorov. "Children are the next caretakers of our planet. Encouraging them to make greener and healthier choices for themselves and the planet is important."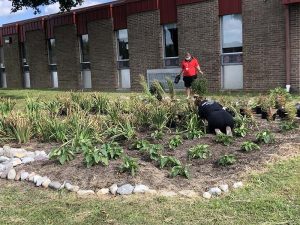 She also encouraged other schools and municipalities to do what they can to help the environment and keep pollution out of our waterways. The South Jersey Landscape Makeover Program provides technical assistance, designing, and funding to help make green infrastructure projects easier for landowners to install.
"Rain gardens can do a lot to help prevent flooding, improve water quality, and increase wildlife habitat," says the American Littoral Society's Lucia Ruggiero. "The South Jersey Landscape Makeover Program makes it easier for people to install these projects, even at the homeowner level."
Homeowners who participate in the South Jersey Landscape Makeover Program can receive a free rain garden design and up to a $450 rebate for materials. To date, approximately $8,000 has been provided in rebates. The program has helped prevent 30 million gallons of polluted stormwater from entering waterways that drain into the Delaware River. All that work is paying off, as Egorov gets ready to use the garden to teach spring pollinator lessons.
For more information about the South Jersey Landscape Makeover Program visit the website at sjwatersavers.org/makeover/.
American Littoral Society's Lucia Ruggiero, Michelle Peal and Kristen Zilcosky contributed to this article.