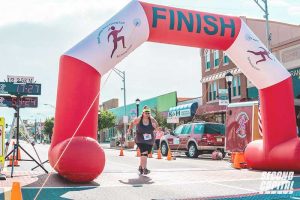 For many who will be attending or participating in Main Street Vineland's Running The Ave 5K on June 27, the focus will be on what the tale of the tape will reveal about the fastest, or second fastest, or third fastest. Another dimension exists to the story, however.
What about the True Grit Award winner? We are talking about the runner who comes in last but, all during the race, still shows dogged determination and the spirit of never giving up.
Meet Lauren Davenport, 40, of the Millville area, the True Grit Award winner in 2019, and Hara Beth Carney, 49, of Pittsgrove Township, the winner in 2020. Davenport is employed by the State of New Jersey, working with children and families. Carney is the benefits coordinator for Nipro PharmaPackaging in Millville. She is married 26 years to her high school sweetheart Dustin, who joined her in running in July of last year. They have a 14-year-old son, River.
What motivated you to start running?
Davenport: I started running about five years ago as I had a few friends that were doing runs in the South Jersey and Philadelphia area. I hadn't run anything more than what I needed to do in school for the yearly physical fitness test. What really got me going was that I had gastric surgery and there was a run that was close to the one-year anniversary date of my surgery, and I wanted to see what I could do. So, I started training for the 5K. I came in dead last but I immediately wanted to do another one.
Carney: I have been overweight my whole life, and because of some pretty serious health/injury issues exercising wasn't easy either, but for several years I had thought I wanted to participate in a 5K. After a few gallbladder surgeries at the end of 2019 were unsuccessful, I decided I needed to change some of my food challenges. By May 2020, I had lost a bit of weight and decided I wanted to add some light exercise. However, because of COVID, so many places were closed. So, it only made sense to start with the easiest tool I had—my legs. I stumbled across a Facebook post about a virtual 5K, and I signed up. I started walking half a mile, then a mile, then added some faster walking and eventually running. I kept signing up for virtual races and they kept me accountable and motivated!
What has been your training regimen?
Davenport: I have been on and off using Couch to 5K [C25K] or Couch to 10K [C210K]. It's a really great app to get started and to see how far you can go in the intervals they give you. If I have a longer run, I try to run a few times a week and then do a longer run on the weekends. Or sometimes I just wing it and hope for the best!
Carney: I don't really have a training regimen, other than a minimum of 15 miles per week.
Have you done other races?
Davenport: Lots of other races! Many, many 5Ks, 10Ks and 10-milers (Broad Street several times now and the Salem Cow Run). I have also completed four half-marathons over the years, with the most recent being on May 8 for the Virtual Marine Corps Historic Half.
Carney: Yes! I have done 40 or more. A large percentage of them were virtual, but as more live races opened back up, I started doing them as well.
What did it mean to you to win the True Grit Award?
Davenport: I originally signed up to do the Running The Ave two years ago because they had the True Grit Award, and it was a very local race. I haven't seen anyone do an award for the final person to come in and as a "back of the pack" runner this is awesome. I actually had a goal to "not get it" by not coming in last but was awarded it in conjunction with another runner. It was super awesome to see people actually waiting at the finish line and cheering you as you came in as the last or second to last running. Very few runs are like this. I also have been at many runs where they are breaking down their stuff before the final runners come in.
Carney: Everything! This race was my very first live race. I was nervous. I was out of my comfort zone, I didn't know what to expect, but I ran it as hard as I could. Just the fact that I finished a live 5K was emotional for me—so emotional that I cried almost all the way home after the race.
What difference is it to you to come in last, rather than first?
Davenport: I know I will never come in first in a run, and that is very okay, because there are talented amazing runners out there and they deserve to get first, or second, or third place and all the recognition that goes with it. I'm always amazed by the age group awards of the kids or older folks who are able to run super-fast! I don't have a problem coming in last. Someone has to be last! I joke that I might be dead last—but I'm not dead. I know that I ran the same distance as those fast persons. A 5K is a 5K no matter what your time is!
Carney: Because I did it. I set out to do a live 5K, and it didn't matter where I finished, just that I finished. I have a saying that I hold very close to my heart and mind: My Race, My Pace.
What running plans do you have for the future?
Davenport: I will continue to run as long as my legs can do it. I am starting to train for another half marathon in the fall in the hopes that Broad Street will be live again this year. And long-term I have the Marine Corps Marathon on the books for 2022. I was supposed to run it in 2020 but COVID hijacked my plans, and everything got pushed back.
Carney: To keep doing it. To get out there and do my best every time.
What was your overall experience participating in the Running The Ave 5K? Are you participating in it again?
Davenport: I love the Running the Ave 5K. It surprised me the first time I did it, and I found Second Capital, Andy [race coordinator Andre Rivera] and the RVC [Run Vineland Crew—a group of runners from Vineland and the surrounding area]. I am so glad I signed up for that run. I will be there in June ready to go—last or otherwise!
Carney: Since this was my first race, I was concerned about my times. I e-mailed Andy Rivera before I officially signed up and asked if there was a time limit. I explained it was my first in-person race and I wasn't sure if I would be able to finish in a set amount of time. He immediately e-mailed me back and said there was no time limit and that it was over when the last person crossed the finish line. I personally met him the day before the race while picking up my packet. He was so nice, so kind, and so encouraging. He holds a special place in my heart, because he has emboldened me since the day I first e-mailed him about that race. Every time I see him at a race—his or another he's participating in—he always makes me feel good about myself.
In fact, the running community as a whole is pretty awesome! Yes, I will be doing it again this year. I have made a promise to myself that I will always run this race—because it is what made me the runner I am today. n