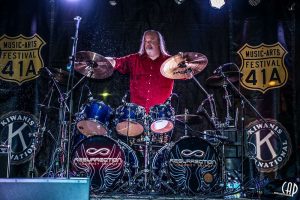 As the state of New Jersey—and the country at large—tentatively begins its gradual reopening, few things are more anticipated than the return of the much-missed experience of attending live music.
Many artists, shut out of their usual way of doing business, have made the best out of a difficult situation by branching out into digital events over the last year. While this has certainly been a balm in the time of lockdown, we're fooling ourselves if we claim that a Zoom concert bears any meaningful resemblance to the real deal—a live concert with a proper audience in a proper venue. Speaking strictly for myself, this is the experience I coveted most during the last year's changes in lockdown, and it's promising to see live music beginning to take shape again here in South Jersey.
This being the case, still most artists and bands have yet to get fully back on the road, with some announcing extensive tours beginning in the fall and others lining up dates for early 2022. However, if you're someone who keeps a close eye on the live music coming through the area, you may have found a recent preponderance of a specific kind of act—the tribute band.
At venues like the Levoy Theatre in Millville and the Landis Theater in Vineland, there's no shortage of such acts to be found on their respective lists of upcoming events.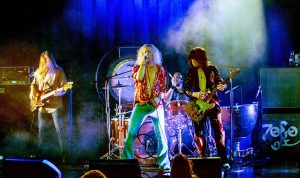 The origin of the tribute band is difficult to place exactly, but many agree that the trend began somewhere in the mid-1960s, when bands like The Buggs set out to capitalize on widespread, massive Beatles fandom by performing that band's hits, dressed in similar regalia and sporting similar on-stage personalities. The mid-'90's saw the rise of tribute acts like Pink Fraud, The Pretend Pretenders, and Clouded House, paying tribute to Pink Floyd, The Pretenders, and Crowded House, respectively. In the time since, however, tribute bands have taken on a significant life of their own, growing their own—often surprisingly large and dedicated—fan bases across the world.
After buying the Landis Theater right before COVID hit, owner Ray Mamrak says they were strapped with a year's worth of not being able to put on any live events.
"What I was trying to do," he says, "is book a band that was good and that people would want to come and see, but one that we could afford."
He knew he couldn't get a band like Foreigner or other six-figure acts, he says, but soon realized there was a potentially lucrative alternative in the world of tribute bands that he could book at a much cheaper rate.
"For us, it was a way to come alive after COVID when they first told us we could open in a way that made sense," says Mamrak.
Under the state mandate, the theater was initially allowed to sell 150 tickets per event, keeping attendees six feet apart. Mamrak says the tribute band shows have been successful, having sold out almost every event within the mandate's parameters. Recently, a Styx tribute band—featuring two of the original members that played with Styx themselves—graced the stage for a sold-out show.
Another prosperous event was the Meatloaf tribute band, Pot Roast, based out of Los Angeles.
"I swear to you, it was him on stage—his looks, his body, his mannerisms, the whole thing," says Mamrak.
With the state mask mandate now gone and restrictions on seating lifted, the Landis can now entertain even more guests for their future events. And there's truly something for everyone, regardless of your music preferences. In June and July alone, the theater will host tribute acts as diverse as Promised Land (Bruce Springsteen), The Soft Parade (The Doors), Romeo Delight (Van Halen), Zoso and Lez Zeppelin (both Led Zeppelin tribute acts), Rock of Ages (Def Leppard), Bad Animals (Heart), Terrapin (Grateful Dead), and Lounge Fly (Stone Temple Pilots). Mamrak says they're picking the best of the best, and now it's time to see if these acts can draw even larger crowds than they already have been.
It's a similar story for the Levoy Theatre in Millville. Tribute bands have been a part of the Levoy's regular programming since 2012, says Phillip Van Embden, who in tandem with his daughter Lauren Van Embden, handles the booking at the Levoy.
"In a typical year, we have 12 to 20 tribute acts and they're very popular," Lauren Van Embden says. "There's a vast range of options out there in terms of quality, from amateur, for-fun hobbyists who put bands together because they like to pay tribute to an artist, to middle-of-the-road bands, to top-of-the-line, super high-quality acts who look like the person, sound like the person—you close your eyes and you think you're actually at their concert."
She says the Levoy tries to stick to the latter, so that the audience feels like they're seeing "more than a bar band," though she's quick to add there's nothing wrong with that, either. "What we're selling is a little more sophisticated experience, so that if somebody has seen the real deal, they don't feel like they've just seen a knockoff," she says. "They leave our theater saying, 'That was as good as the real thing.' "
Phillip Van Emden notes that the members of tribute bands are all fans—fans taking it to the next level. "The thing about tribute bands," he says, "is that they help people recreate the experience they had. If you look at a typical tribute band, it might be [paying tribute to] a band that was big in the '60s, '70s, '80s, '90s—bands that have morphed into other things or have gone out of business—and what made them famous was a series of hit songs. So, the tribute bands give an audience the chance to see a facsimile of an artist doing all the hits."
The Levoy recently hosted Broken Arrow, a Neil Young tribute band fronted by Joe Mass, whom Van Embden says "is just plain awesome—looks like Neil Young in his heyday, sounds like Neil Young, plays better than Neil Young." In the coming months, the Levoy will be featuring tribute acts like Resurrection (Journey), Yellow Brick Road (Elton John), and Live & Let Die (a symphonic tribute to the music of Paul McCartney.)
You can find more information on the Landis Theater at thelandistheater.com and more information on the Levoy Theatre at levoy.net.