Mike Murphy is one proud dad. He glows with pride when talking about his daughters' accomplishments.
"When they started to realize that they wanted to follow their mom in the medical profession, I was thrilled," he says.
Casey, Kelly, and Rachel Murphy, as part of a set of quadruplets, share more than a strong family resemblance. When the time came to enroll at Rutgers University–Camden, they all decided to become nurses and follow in the footsteps of their mother, who passed away when the sisters were toddlers.
"Since a young age, a nurse is all I ever wanted to be," says Rachel Murphy. "I was fascinated with helping people who were sick become well."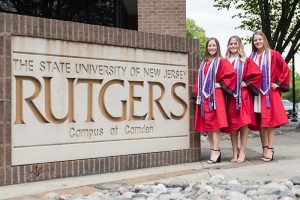 The sisters are embarking on careers in nursing after graduating with honors from Rutgers University–Camden. The other quadruplet, Erin, recently graduated from Oklahoma State University and will be attending veterinary school.
When the quadruplets were two years old, their mother Toni passed away. They were raised by their father, older sister Lyn, and their grandparents.
Growing up in Swedesboro, the sisters knew they wanted to work in a medical field. Inspired by their mother, Casey, Rachel, and Kelly chose a career in nursing.
"I can proudly say I am officially following in my mom's footsteps," says Kelly Murphy. "I know that I will always have a piece of her with me forever."
"When deciding a major to pick for college, there was never a doubt of anything, but nursing," says Casey Murphy.
While the trio did not plan to attend the same college, they all chose Rutgers–Camden thanks to scholarships and grants. They covered additional expenses by working a variety of jobs, including as a hospital technician and at a local ice cream shop.
The sisters took the same classes and carpooled to the Rutgers–Camden campus. To prepare for exams, the life-long study buddies reviewed class material together and quizzed each other to earn top grades in all of their classes, earning membership in Sigma Theta Tau, the international honor society of nursing.
At Rutgers–Camden, fellow students and faculty often misidentified the sisters.
"Many people would refer to us as the twins or triplets," says Rachel Murphy. "We would just go along with it most of the time even though we are quadruplets. We are used to people getting us confused since we were little kids."
When remote learning replaced in-person classes during the pandemic, the sisters leaned on each other to learn class material. "If someone understood a concept more, one of us would try to explain it in an easier way to understand," says Kelly Murphy. "We would often study that concept more than the other concepts."
Volunteering at the Camden County vaccination center to administer the COVID-19 vaccine to South Jersey residents gave the sisters a chance to make an impact during the pandemic.
"Giving out the vaccines was rewarding because we were making a difference in people's lives," says Rachel Murphy. "Everyone was happy to receive it and were grateful for us being there to guide them through the process."
While the sisters are similar in many ways, their education at the Rutgers School of Nursing–Camden helped them to develop passions for different areas of nursing. Casey plans to specialize in pediatric oncology, while Rachel's interest is in wound care and ostomy, and Kelly is pursuing a position working with coronary care patients.
In the future, they all plan to pursue graduate degrees.
Mike Murphy, still glowing with pride this Fathers Day, says. "I am excited to see where their careers lead them in life."