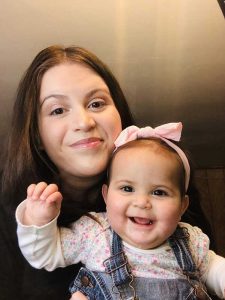 Inspira Health recently announced that two participants in its IMPACT Parent Linking Program (PLP), which serves students enrolled in Vineland High School who are pregnant or parenting, were awarded scholarships from Prevent Child Abuse-New Jersey (PCA-NJ) for their outstanding academic and personal successes.
Jennifer Garcia and Katelyn Guzman were each awarded the Higher Education Book Scholarship for $500. Both students are planning to attend Rowan College of South Jersey in the fall to pursue their education in the health care field.Established by PCA-NJ, the annual Higher Education Book Scholarship honors students who have achieved positive academic success and exhibit a commitment to attending group sessions with the Parent Linking Program.
The scholarships were awarded at the Parent Linking Program's Annual Teen Conference, which was held virtually this year. The conference was designed for adolescent parents who participate in the Parent Linking Program (PLP) from eight high schools throughout the year. This year's conference theme was "Rising Strong" and featured workshops for the attendees to participate in centered around self-care and building resilience.
"We are proud of Jennifer and Katelyn for all they have accomplished, both personally and academically, this past year," said Debrah Hickman, IMPACT Program Coordinator at Inspira Health. "It has been a pleasure to watch them grow and gain confidence."
Since 1998, Inspira's IMPACT Program, in partnership with the Vineland Board of Education, has been serving Vineland High School students who are pregnant or parenting. The goal of the Parent Linking Program is to guide, educate, and support young mothers and fathers as they navigate the challenges of parenthood. This free program includes full-day childcare, transportation, parenting classes, case management and referrals to other community agencies. Funded by the New Jersey Department of Children and Families, the program aims to eliminate repeat pregnancies, to increase high school graduation rates and to reduce the incidence of child abuse and neglect. n
For more information about Inspira Health, visit InspiraHealthNetwork.org or call 1-800-INSPIRA. To stay connected with Inspira announcements and work being done in the community, join the conversation on Facebook and Twitter.