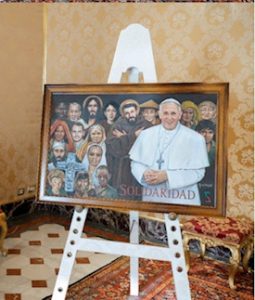 Many Cumberland County residents know George Perez as a local artist who has showcased his artwork at events around the region. Or you may recall that Perez created a mural in downtown Vineland that honors our active service men and women as well as veterans.
One of his paintings was recently presented as a gift to Pope Francis, after Perez was commissioned to paint it through the efforts of a global anti-poverty group.
"To be able to illustrate the pope's vision and tell a story about helping the poor," said Perez, "to paint his cross and the story it tells from Scripture—it was a spiritually rewarding experience. This was not just another job. Spirtually and physically, I was all in."
Patrick McGrory, a board member of the non-profit anti-poverty group Global Solidarity Fund, showed representatives a painting Perez had done and succeeded in getting Perez the commission. The two came up with a concept for the painting that conveyed the pope's love and concern for the world's poor. The oil painting shows the pope in the company of Jesus, Saint Francis of Assisi and people of various ages and ethnicities.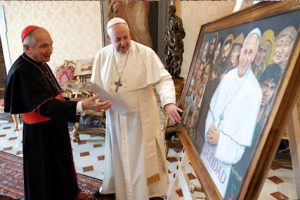 Working under a tight deadline, Perez took two weeks to paint the work of art, so that he could allow the oils to dry before framing it and sending it to Rome.
Perez has been working in the fine arts field for the past 40 years. His portfolio includes commercial and fine art, portraits, book illustrations, caricatures, and murals.
One of those murals appears on a building in downtown Vineland. Facing the mini-park on the southwest corner of Landis Avenue and the Boulevard in Vineland, it honors active members of the five branches of the military as well as veterans and POWs. Work by Perez and his assistants lasted through the summer of 2019 and culminated with a formal dedication of the mural on Veterans Day of that year.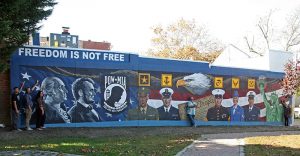 "George and his assistants worked tirelessly on the mural" said Main Street Vineland Executive Director Russell Swanson. "The scope of the mural is phenomenal and the detail is astonishing. It is truly an asset to our downtown—The Ave—and certainly does justice to those brave men and women who have served to keep our country free."
Perez has been recognized throughout Cumberland County for his contributions to the arts. Each year Perez donates a portrait of a prominent professional golfer to the Cumberland County College "School Counts" Golf Tournament.
Perez attended the High School of Art & Design in New York City prior to moving to New Jersey where he graduated from Vineland High School and attended Rowan University. Perez resides in Vineland with his wife Donna.