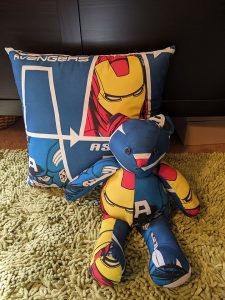 When a loved one passes away, for many people, letting go can be an arduous process. We miss the laughter and the tears. We miss the arguments; we miss the fights. We miss making up after realizing the stupidity of those arguments and fights.
In general, we miss their physical presence and having the opportunity to reach out and touch them.
Also, many parents recall the adorable moments of when their grown children were just little bundles of joy and the cute little baby attire they once wore as young tikes.
Many of those parents have tried to hold on to those snapshots in time, but have a challenging time finding a way to do so.
A local seamstress is giving people the chance to stay physically connected to their deceased loved ones and to memories of their children before they became back-talking teenagers and adults, by making something new out of their old clothes, blankets and other items.
Adriana Kueken, sales associate and sewing teacher at The Pin Cushion in Vineland, is becoming recognized for her outstanding work creating memory items.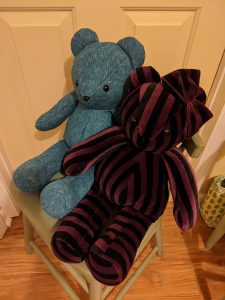 "Memory items [are] handmade from personal items such as clothing," says Kueken, "to create a keepsake as a memory of childhood, milestones such as graduations or weddings, or memories of a loved one who passed away."
When a loved one passes away, or a child grows up, many folks wonder what to do with the clothes. Do you throw them away? Do you give them to charity? Do you just let them stay, untouched, in the closet?
Kueken, a Vineland resident, creatively uses her sewing skills to transform all kinds of clothing wear into items that can produce new memories, even while maintaining the old.
"There really are so many memories attached to clothing," Kueken says. "Normally the reason is someone has passed away and a family member doesn't want to get rid of their clothing. So, they ask me to make something from it.
"I've done memory pillows and bears from button up dress shirts, sweatshirts, sweaters, and T-shirts," she reveals. "The most common for memory quilts have been T-shirts, but I've used all kinds of clothing—from jeans to dresses.
Clothes aren't the only objects that can be turned into memory items.
"Recently, I used an old sheet to make my nephew a pillow and Teddy bear," says Kueken, who graduated from Cumberland County College and received her bachelor's degree from Thomas Edison State University. "So, pretty much anything goes!"
Memory items are becoming popular as thoughtful and heartwarming gifts to give to those you love.
"Sometimes [customers] are giving them as gifts to the family," says Kueken. "Once, I think I made an order of 16 pillows from a dad's shirts, one for all the kids and grandkids."
It appears as if Kueken, who's been sewing and quilting since she was a teen, was born to be a memory item maker.
"If you ask my family, they'll tell you I'm a lover of all things [having to do with] nature, vintage, and pretty much anything with a memory attached to it is interesting to me….
"So, recycling memories from old things is a big part of why I like making these items."
Although she's creating wonderful, memorable pieces of art for her customers, like any job, when you put your heart and soul into what you do, the work can be quite stressful.
"I'll feel a little anxious that they won't be happy with what I've done with it," Kueken reveals. "If something happens when I'm working on it, it's not like I can just buy more fabric.
"These items are irreplaceable, so I want to be really careful when cutting them."
Naturally, while sewing a memory item, especially when it's a clothing item from someone who's deceased, many questions swirl through her mind.
"…[I] start to think of what the person that used to wear the item was like, or when they wore it," says Kueken. "Was it their favorite shirt? Was it for work? Did someone that's getting the finished product maybe buy the deceased person the item of clothing?"
While she may not always get answers to those questions, Kueken feels honored knowing that she's helping to provide a bit of happiness to her customers.
"I really enjoy turning something old into something new" says Kueken, "and if it keeps memories alive or can give someone a little comfort after losing a loved one, it really means a lot to me.
"People are usually really excited to see the final product," Kueken adds, when asked what kind of responses she's received after completing a memory item. "Sometimes they cry, which is bittersweet to me.
"I think the memory they hold in that piece of clothing is what makes them so thrilled to see it being brought back to life again. It's a really good feeling to see how happy someone is to see the finished product I've created.
"I am humbled to know I can help keep just a little part of these memories alive."
For those interested in having a memory item created by Kueken, call The Pin Cushion at 856-692-5460.