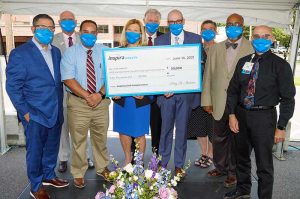 Inspira Health recently announced its fourth donation of $50,000 to help fund the Cumberland County Housing First Collaborative efforts to end chronic homelessness in Cumberland County. The Housing First model has proven to reduce health care costs and incarceration and recently, the Collaborative celebrated the milestone of moving their 100th client into a new home.
The Cumberland County Housing First Collaborative is a collection of social service organizations, faith-based institutions, and government officials committed to tackling the problem of homelessness. The guiding agency of this collaboration is the M25 initiative with additional partners including Gateway Community Action Partnership, PRAC of Southern New Jersey, Resources for Independent Living, Acenda Integrated Healthcare, Inspira Health, CompleteCare Health Network, Cumberland County Government & Correctional Facility, and Volunteers of America Delaware Valley. The Collaborative was started in December 2015, and in the summer of 2017, the organization began moving in clients who transitioned from being homeless to being homeBLESSED.
"Our mission as a health care network is to improve the lives of all we serve in the community," said Amy Mansue, president and CEO of Inspira. "The work that has been accomplished thus far has been extraordinary, and we are honored to be a founding member of this initiative to help put an end to chronic homelessness. I am grateful for the community partners who make up the Collaborative and the leadership provided by the M25 Initiative."
Since 2017, Inspira has donated a total of more than $200,000 to the Collaborative, demonstrating its commitment to addressing chronic homelessness, which is a significant social determinant of health. The Housing First model places people in their own dwelling first, while simultaneously making sure that all needed medical, behavioral health and social services are being provided.
We are very grateful for Inspira's partnership and donations to make this important work possible," said Dr. Robin Weinstein, president of the M25 Initiative and founder of the Cumberland County Housing First Collaborative. "With Inspira's continued support, we are addressing homelessness in a humanistic and holistic way by providing our clients with a home, medical and behavioral health services and logistical support to help them improve their well-being."
According to data compiled by the M25 Initiative and Collaborative partners, the program has a retention rate of 88 percent after one year. Since 2017, initial findings indicate a reduction of hospital utilization from 60 percent to 90 percent among clients with a record of prior utilization. Based on the data compiled from the local jail, initial findings indicate a reduction of jail stays from 86 to 95 percent among clients with a record of prior utilization.
Through collaboration with its partners, the organization can provide stable and sustainable no- or low-cost housing—as well as offer "wrap-around" services including mental health care, case management, social services, and medical health care. By stabilizing their living situation and offering comprehensive care, these individuals have an opportunity to improve their own social determinants of health which, ultimately, leads to a more equitable distribution of health care resources across the community and better quality of life.
The M25 Initiative has announced that it has secured funding to place an additional 20 individuals in their own homes through 2022.
The M25 Initiative is a 501(c)(3) non-profit in Cumberland County, NJ created for the sole purpose of engaging, equipping, empowering, and mobilizing individuals and organizations to employ innovative and cooperative solutions to alleviate suffering, feed the hungry, end poverty, reduce crime, revitalize a spirit community and transform lives.
For more information on the Housing First Collaborative, visit endhomlessness2020.com. For more on the M25 Initiative, visit m25initiative.org or call 1-844-M25-HOPE. For more about Inspira Health, visit InspiraHealthNetwork.org or call 1-800-INSPIRA.