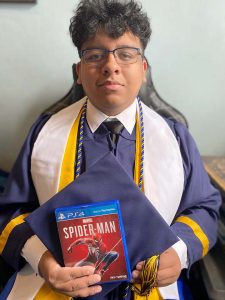 What do Jesus Calixto of Rowan College of South Jersey's Cumberland campus and his favorite superhero, Peter Parker aka Spider-Man, have in common? They are both keenly aware that "With great power there must also come great responsibility."
"From time to time I say to myself, 'What would he do?'," said Calixto, an avid movie buff, regarding the famous web-slinger. "Spider-Man is known for being selfless and putting others before himself. That's how I try to operate."
As the Student Government Association (SGA) president and a peer tutor, Calixto has learned that letting go of ego and having compassion for others are commendable qualities for great leaders to possess.
"Before becoming president, my perspective about being a leader was being able to do it all on your own," said Calixto. "And now, being in those shoes, I quickly learned that can never be the case. You need people behind you. You need to be responsible.
"And, if you don't know how to do something, even if you're the leader, there's nothing wrong with asking for help."
Discovering admirable leadership traits isn't the only epiphany Calixto, a Biological Sciences major, has experienced in his life.
After seeing the films The Fifth Element and The Amazing Spider-Man, Calixto became intrigued with the concept of cell regeneration. Then, in his 11th-grade biology class at Bridgeton High School, there was a conversation about stem cells.
"That's when I learned that scientists were trying to manipulate the cells to replace organs and limbs," the Equal Opportunity Fund (EOF) student recalled.
That particular class discussion struck a chord with Calixto. "My mom has cancer. She has a tumor," he revealed. "They had to do surgery on her when I was about two years old. They removed half of her spine and replaced it with a metal prosthesis."
Calixto said the doctors gave his mom only six months to live. "Thankfully," said Calixto, "my mom's been in remission for approximately five years. She has other challenges, but overall, she's doing well."
When the Bridgeton resident chose to enroll at RCSJ, his mother was at the forefront of his mind.
"I wanted there to be a way that kids didn't grow up the way that I did," Calixto explained. "I didn't want them to have to worry about their mom. I didn't want other people to feel the pain that my mom experienced."
During his time at RCSJ, Calixto, a Phi Theta Kappa member who recently participated in RCSJ's Parade of Graduates Commencement, has left a positive impact on the campus community.
"Jesus and I had an excellent relationship and he confided in me a lot," said Linda Slomin, senior EOF counselor. "I got to see so much of his heart and his potential. I honestly see greatness in Jesus and know he is going to influence many lives. I've seen it in him already in the way he mentors other students.
"He has a genuine desire to guide others, especially when he sees them going down the wrong path."
Slomin also spoke highly of Calixto's approach as a student. "Jesus loves learning and he is attentive in class," she said. "He gets to know his professors well and if he is experiencing any issues affecting his attendance or performance in class, he is open with his professors."
Calixto participated in the Cumberland Bridge 2 Rowan program (CB2R), which will allow him to further his biological research studies at Rowan University.
The goal of the CB2R program is to increase the baccalaureate completion of underrepresented, low-income Biomedical Science students who start at the community college level and are well prepared for biomedical research careers or graduate programs.
The SGA president noted the diverse nature of the program. "If you walk into our labs, you'll see … we're not one color. We're not one culture. We're like a bunch of flowers or a rainbow and we each bring our own unique qualities to the class."
On May 3, Calixto represented Cumberland as its student speaker at RCSJ's virtual commencement ceremony and spoke about the resilience of the 2020 and 2021 graduates, who succeeded in achieving their educational goals at the college during trying times.
"When we cried, we persevered. When we fell, we stood. When we felt lost, we found hope," he told the captivated audience.
"I am extremely proud of Jesus because I am aware of all the obstacles he's been through while being a leader on campus," said Slomin, who presented Calixto with the EOF Leadership Award, during the ceremony. "It hasn't been easy for him, but Jesus comes off with a quiet confidence and he is able to focus on others and the task at hand despite what he may be going through."
There is someone else who is thrilled to see where Calixto is headed on his life's journey—the inspiration for his chosen career path.
"My little brother showed the speech to my mom," Calixto shared. "She sent a text to me that she was very proud of me. She was very happy."
Calixto is on a mission to make a consequential contribution to the advancement of stem cell and regenerative health research in the hopes of alleviating the pain of people who have suffered like his mom.
"Everyone has a dream of being the hero in their own story," said Calixto.
For more information on RCSJ programs, visit RCSJ.edu.