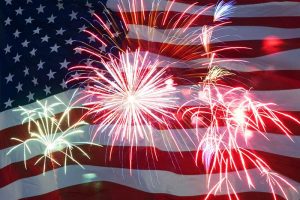 After an uncertain year in 2020, when few 4th of July celebrations were held, there is now a more hopeful outlook marking the return of the traditions of Independence Day. While some communities have canceled their celebrations in 2021, many events including parades, concerts, activities, and fireworks are scheduled around our area.
Vineland
• Fourth of July concert at 7 p.m. on July 4 at Giampetro Park, Lincoln and Landis Avenues, Vineland, featuring Rowan College Cumberland Campus wind symphony and Bud Cavallo Duo. Free admission.
• Fireworks display immediately following the concert at Vineland High School, Chestnut Avenue and Brewster Road. Rain date July 5.
Millville
• In light of the Cumberland County Fair's cancellation, Millville officials organized a celebration to do something to satisfy fans of the popular fair. On the 4th from 6 until 9 p.m., there will be dollar hot dogs, an ice cream truck, snow cones and other inexpensive goodies, and live music, plus watermelon and pie-eating contests.
• Fireworks go off at approximately 9 p.m.
All this is at Union Lake Park, Sharp Street and Columbia Avenue in Millville.
Bridgeton
• Fireworks on July 4 at 9:30 p.m. launched behind Alden Field in Bridgeton City Park adjacent to Bridgeton High School, 111 West Avenue.
Hammonton
• Independence Day Parade at 11 a.m. July 4. Parade travels along Bellevue Avenue from Egg Harbor Road to Third Street. To participate, e-mail brookedowd@gmail.com.
• Fireworks are at dusk at Hammonton Lake Park, 100 Sports Drive.