Like cities and homes, every person on this planet has a story to tell. Everyone has a purpose, as well. Some people discover their purpose early on in their lifetimes. Others identify their purpose, also known as dharma in Yogic philosophy, later on in their lives. Some live their entire earthly existence unable to answer the eternal, existential questions "Who am I?" and "Why am I here?"
Robert Johnson, owner of Pizza Queen in Vineland, unearthed his purpose and has a new book to show for it.
Johnson recently authored and published his first book, titled Abandoned Not Broken, and will be hosting his first book signing event at the restaurant on September 20, from 2 to 5 p.m.
Abandoned Not Broken is Johnson's personal story of overcoming hardships, obstacles, and the curveballs life threw at him to become a successful business owner, community spirit uplifter, and happy family man.
"It talks about me being adopted, being raised in a biracial family—in not the greatest area," Johnson reveals.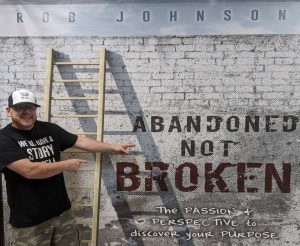 His mother had spells of physical health challenges. He lived in a two-bedroom trailer in Tips Trail Park in Bridgeton with three siblings and a young, autistic nephew and he was a high school dropout.
But, like Chumbawamba's hit song Tubthumping, every time Johnson got knocked down, he inevitably "got up again."
In the book, "I just, in different areas, how things came up against me—but instead of giving up, I worked through it," Johnson says.
The Vineland resident says that his relationship with God and some loving members of the Bridgeton Assembly of God church helped him immensely during some of his most troubling moments.
"I didn't have much to offer the church, but they had so much to offer me," says Johnson. "All the families there just took me in as their own."
The church and its members, especially Reds Scott, deacon of the church and eventual mentor to Johnson, let him know that God created him for a purpose.
Once he tore away many layers to reveal his True Self, he stopped committing acts like brandishing weapons and chasing alleged thieves with a Taurus Judge revolver.
"Once I really took a hold of what God had for me and applied it to my life and stopped playing around," Johnson says, "I knew that God had something great for me.
"That's when I buckled down and really focused on Him and I wanted to fulfill what He had for my life."
Johnson discovered his purpose is to help spread "the news that no matter what you go through, we are built for greatness."
"We're built to overcome. We're overcomers," he explains. But first, "You got to love yourself and believe in yourself."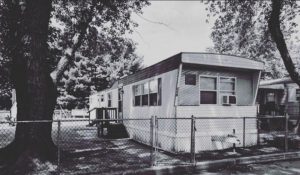 Johnson, who also owns DMK Management LLC, a real estate business, advises people he meets, especially children, teenagers and young adults to find their passion and apply themselves.
"You got to get the right perspective and then you got to be willing to put the time, energy, and effort into it for your reward to show up."
Because of his positive interactions with the younger generation, Johnson's friends suggested he share his story with a larger audience by writing a book.
He began to pen his story because he was conscious he had a story to pen. However, "It was the hardest thing I did," Johnson admits.
"It was a huge task for me. I've never been a writer … so, it was a humongous task for me," he continues. "But it became something I enjoyed and couldn't wait to sit down and write the next word, the next day."
Johnson completed his two-year, literary undertaking earlier this year while Pizza Queen was closed during the pandemic. "That allowed me to just focus and really work hard on the book and I ended up finishing the last seven chapters."
Johnson, who was selected as an SNJ Today Hometown Hero, several years ago, expressed excitement when asked what it felt like to be a first-time author.
"It feels a little different," he says. "It feels awesome. It absolutely feels great!"
Recently, Johnson was invited to further share his passion and purpose in another medium. You can now catch him every Wednesday on POP 99.9 FM's powerful morning show The Positive Perspective hosted by the dynamic duo John Salvatore and Yamira Velez.
His segment is called Rob on the Road. He'll be handing out The Power of Positivity Awards to unsuspecting people and businesses in the listening area "that do things positive that maybe otherwise wouldn't be brought to light."
The purpose is to let these people and businesses know that they're loved and appreciated because "Sometimes when you do good in the world, some days you feel like you're the only one doing it," Johnson says.
As for Abandoned Not Broken, Johnson, who has a wife (to whom he proposed to on a popular, national TV show in 2001—don't ask which one, you'll have to read the book to find out) and three children, hopes people will feel empowered after reading it.
"I want them to … see the fact there's hope for a better tomorrow," he says. "But also, I hope people get inspired to know their story is worth telling, as well."
Abandoned Not Broken is available on Amazon and XulonPress.com