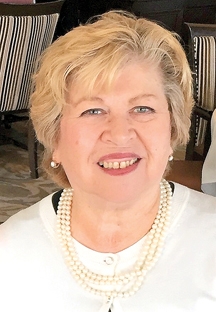 Normally the Glasstown Arts District would be presenting a variety of events during May. We've canceled Third Friday, free jazz concert, plein air artists day on the river, MultiCultural event, Mother's Day specials and more. But wait, there are events that you can participate in "virtually."
On Friday, May 15, the Riverfront Renaissance Center will host a virtual art opening. What was to be a beautiful gallery group show by the New Jersey Watercolor Society will be offered online. Join the RRCA in experiencing music and art—a REAL Third Friday @RRCA experience! Find the art center on Facebook for the event and link, #riverfrontrenaissancecenterforthearts or on the web at rrcarts.com.
Also, look for the Riverfront Renaissance Center for the Arts on its YouTube channel to find "Isolation Art Gallery" videos and "Kids Art Challenge." The gallery features artwork by area artists, and the Kids Challenge will be fun for your youngsters at home.
Artistic Touch Beads has created a new online store to serve their clients at artistictouchbeads.ecrater.com. There you will find beads by category and in kits. Inventory will be added daily to offer all 5,000 that are in the bead shop at 317 N. High Street, Millville. Owner Kim Conner will soon be offering a "Virtual Bead Group." Visit the shop on Facebook: @Artistic Touch Beads for more.
El Guacamole Restaurant, 110 N. High, is now celebrating Cinco de Mayo, but you can celebrate any time with their fine Mexican menu! They are open Wednesday to Sunday for lunch and dinner takeout. Order in advance by calling 856-300-5433.
I had a chat with Julie at BJ Roasters, 231 N. High Street, and she continues to serve her customers by offering amazing wings, platters and deli. She would love to add some newcomers to her base. Call ahead of time to have your order ready: 856-825-8123. On Facebook @BJRoasters.
I also talked with Richard at Bogart's Books & Café, 103 N. High Street. He is open for takeout from 10 a.m. to 2 p.m. Wednesday to Saturday. Not only can you order a great takeout meal, you can stock up on books to enjoy during our time of quarantine. Specials are posted on Facebook @Rich Ford – Bogart's or 856-327-3714. Look for special events to enjoy with local musicians that regularly play at Bogart's on Friday evenings and weekends.
Bruni's Burgers & Breakfast, 432 N. High, is busy with takeout from 9 a.m. to 2 p.m. daily. You can find specials and regular menu on Rob's Facebook page @Bruni's Burgers and Breakfast or call 856-765-5063.
Wildflower Vegan Café, 501 N. High Street in the Village on High serves vegans and vegetarians meals for takeout. Even if you're not vegan, you'll enjoy the tasty and original culinary skills of owner Eric and his staff. Call ahead at 856-265-7955 or Facebook @Wildflower Vegan Café.
Don't miss bagel sandwiches, salads, desserts and more for takeout at Arts Café, 230 N. High. Angela has a full menu of delicious breakfast and lunch specialties. You can pick up or have your order delivered. Call 856-300-5014 and on Facebook @Arts Café.
Manny's Pizza, 426 N. High, is serving Millville great pizza, cheesesteaks and more when you place your order 856-327-5081 and on Facebook @Mannys Pizza.
Iconic Jim's Lunch is open Wednesdays to Saturdays at 105 N. High. They feature daily specials, sandwiches, soups and more. Place your order at 856-327-1299 or visit Jim's on Facebook @Jims Lunch.
We miss all our restaurants, art galleries, retail shops, salons, and professional offices. Please support them any way you can. Visit glasstownartsdistrict.com for complete list.