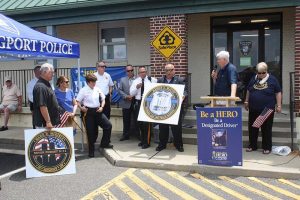 At a ceremony held recently at the Longport Police Station, the John R. Elliott HERO Campaign unveiled three new members of its fleet of HERO police patrol cars aimed at preventing drinking and driving. The cruisers, from Vineland, Longport, and Pleasantville, will serve as rolling billboards with the HERO Campaign message promoting designated driving.
The HERO cars are part of the campaign's "Summer of HEROES" initiative to remind motorists to always have a safe ride home whenever they consume alcoholic beverages. Current HERO cruisers from six other South Jersey police departments also were on hand for the ceremony. All the vehicles bear the HERO slogan, "Be a HERO. Be a Designated Driver."
Vineland City councilmen Paul Spinelli and Albert Vargas attended the ceremony.
The Vineland cruiser honors the memory of two fallen heroes—police Sergeant Baron McCoy, who died in 2015, and Mark R. McGinly, who died in the Twin Towers disaster on September 11, 2001. Mark is the son of William and Patricia McGinly. Mrs. McGinly's family, the Ottingers, are from Vineland, where Mark was laid to rest. Her brother is the late Vineland school superintendent Charles, "Chalky" Ottinger. The McGinlys donated the HERO wrap for the police cruiser. They also are close friends of Bill and Muriel Elliott, founders of the HERO Campaign.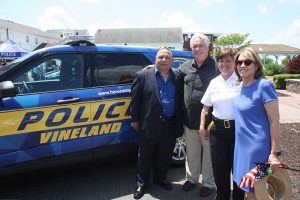 "We are grateful to our law enforcement partners for helping us save lives by encouraging safe and sober designated driving," HERO Campaign chairman and co-founder Bill Elliott said. "With these rolling billboards reminding South Jersey residents of the importance of designated driving, we will keep our roads safe from the dangers of drunk driving."
Other towns with HERO patrol cars are Atlantic City, Linwood, Ocean City, Sea Isle City, Middle Township, Lower Township and Evesham Township.
In addition to law enforcement, the HERO Campaign partners with bar and tavern owners, schools and colleges and professional sports teams to register thousands of designated drivers annually.
Now in its 20th year, the campaign was established in memory of Bill and Muriel Elliott's son, Navy Ensign John R. Elliott, who was killed in a collision with a drunk driver in July, 2000, two months after graduating from the U.S. Naval Academy, where he was named the Outstanding HERO of his graduating class. The campaign also honors the memory of other victims of DUI tragedies.
For more information on the HERO Campaign, visit herocampaign.org or call 609-626-3880.