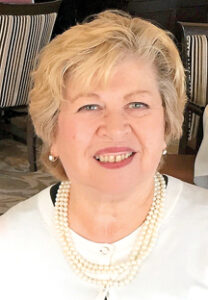 It's time for a change of seasons and a show of support to local businesses in and around our Cumberland County cities and townships. Typically, September back to school signals the advent of autumn and getting back to learning and working hard. I don't need to tell you that "back to school" has a new meaning in 2020. Hopefully, your children, you, and the teachers will have a successful roll-out for the first marking period/semester.
Autumn also means a breath of fresh air as temperatures moderate and we enjoy outdoor activities beyond the beaches. If you're planning to spruce up your home, consider visiting the galleries and shops in the Glasstown Arts District. Many have changed "open" days and hours of operation to better accommodate tight budgets and fewer employees. We encourage you to visit the websites and/or Facebook pages of the businesses to get that information.
Construction on the 500 block of High Street has begun and it's very exciting to watch the project develop. If you haven't seen the construction site, it is the south-east corner of High and Broad streets, the old Zelphy's building, and the empty lot next to it. There are several lots on Penn and Buck streest in the rear that are having buildings demolished to create parking lots. This Millville Downtown Redevelopment is under the management of the Cumberland County Improvement Authority.
People have been asking if the beautiful mural on the corner lot will be covered by a new building. The answer is "no." That part of the project will create a new public plaza that will resemble the Glasstown Plaza at High and Sassafras streets. The mural will be greatly enhanced by this new plaza.
The former Zelphy's will get a facelift and indoor modifications. The new building next to it will create sufficient space for a new health services facility. We look forward to welcoming this new business to our downtown core.
* * * *
One of our annual programs in the arts district is façade improvement project grants. Annually, the City receives federal grant funding from Housing and Urban Development in community block development grants. Our non-profit has been fortunate to receive part of the funds to award grants to some of the building owners and/or tenants. The last round of funding is ending, and we are hopeful to receive more dollars for 2021. Some of the projects receiving grants are Plowman's Windows & Doors, Ganaba RE building at 19 N. High, and the BJ Roaster building's upper floors. All building owners or tenants must receive design approval and then match the grant with at least 25 percent investment.
If you have interest in applying for this program, contact me at marianne@glasstownartsdistrict.com.
* * * *
Planning ahead for the next several months, we want to know how we can better serve you, our neighbors, and clients. Since COVID-19 impacted us, we have adapted some of our programs. There are special events that we cannot sponsor or host throughout the fall and early winter. That said, our small businesses need shoppers. Let us know how we can improve small business shopping. If galleries and shops have online stores with shipping and/or curbside pickup, are you more likely to shop in the Glasstown Arts District? You can e-mail to the above address or phone me at 856-293-0556. Thank you.