Empathy. Compassion. Caring for others. During these days and times, these golden tenets seem to be applied less and less by the masses. Turn on the TV and the turbulence of this era is evident. Go on social media and you may drown in an endless stream of negative energy. It wouldn't be a surprise if a radio station kept Deep Purple's epic tune "Smoke on the Water" in heavy rotation.
Yet, underneath it all, there are always people willing to look beyond despair and do what they can to help their fellow sisters and brothers in humanity. Through the practice and teaching of yoga, Kay Delp is doing her best to bring a little piece of peace into people's lives. Delp, is the founder and director of Eastern Sky Co Op (ESC) located in the Hopeloft building in Bridgeton.
ESC holds multiple yoga classes and events, and before the pandemic put much of the world on hold, several eclectic, community gathering events in its spacious confines.
"What we are is a nonprofit, officially incorporated as a 501 c4…," says Delp. "This is a social welfare organization recognized by the IRS. And, it's a group of like-minded people, mostly yoga instructors, who want to do something that they love to do. They want to share their joy with other people and they also want to help and support the local community."
Delp, a native of York, Pa., has been practicing Yoga since the 1990s. She became a certified yoga instructor two and a half years ago, and extols the virtues of becoming immersed in this beloved, healing art.
"Originally, I got [into yoga] because I wanted the physical benefits," she says. The former runner and cyclist discovered that yoga stretching was the "antidote to running," which brought some balance to her workouts.
Although she started taking yoga classes purely for the physical advantages to her health, she soon began to experience the mental and emotional benefits, as well.
"The peace and clarity that brings the stress relief—that becomes addictive," she says.
According to revered, yoga master T.K.V. Desikachar's book The Heart of Yoga, "yoga has its origins in the Vedas, the oldest record of Indian culture."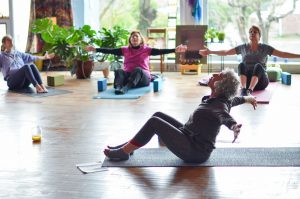 "Yoga is a Sanskrit work which means to connect, or join," says Barbara Paulsen, studio owner of Yoga Inspired, in Pitman. "It is a physical, mental and spiritual practice [that] combines physical exercise (postures), breathing techniques, and meditation to help us become our best selves."
There are seven branches of Yoga including karma, mantra, and hatha yoga, which Paulsen says is the "yoga of physical discipline" and the most widely practiced form of this art.
Like most arts, yoga means something different to different people. Some people practice Yoga strictly for exercise purposes. Some people practice yoga for its therapeutic value.
And for others, the art gives them the chance to harmonize their minds, bodies, and spirits with the heavenly tune of the universe.
"It taught me to breathe," says Pam Burton, yoga instructor with Eastern Sky Co Op. "When faced with a fight or flight situation, many people hold their breath. Yoga teaches you and reminds you to breathe and allows you to relax and remain calm."
The practice of yoga has helped Delp gain flexibility, strength, and a deeper knowledge of self, but becoming an instructor has become a benefit in and of itself.
"It's the ability to be able to teach and give back, and the joy you bring to somebody else," she says. "That feels good."
"I feel so incredibly fortunate and blessed to be in this position," she continues. "Once you have been given an opportunity [to teach yoga] you need to do it. It's like you know somebody who's hungry, but won't give them the food—you need to do it."
Besides yoga, as a social welfare organization and with Delp leading the way, ESC helps feed area residents with the kind of nourishment that uplifts a community. It's donated ShopRite grocery cards to help citizens in need. It's partnered with Bridgeton Main Street to help clean up Pocket Park. It's helped to fund CASA (Court Appointed Special Advocates) by assisting foster children in procuring prom tickets or prom wear. It's done much more.
Hilary Nichols, CASA of Cumberland, Gloucester and Salem outreach coordinator and founder of Operation South Jersey, is appreciative of Eastern Sky Co Op's community engagement. Operation South Jersey is described by Nichols as "a community project that strives to connect the community to opportunities to help those in need by creating donation drives and volunteer-based projects."
"Kay and ESC is always encouraging her classes to get involved by bringing in items for any drive I'm currently holding and donates money from her benefit events to put towards our projects," says Nichols.
Because of her love for helping others, Delp, who also serves as a CASA advocate, is highly respected by many of her peers in the city of Bridgeton.
"I've seen Kay selflessly give back to the community from the time I've known her," says Burton, a longtime friend of Delp's, "and I admire that about her."
"Kay has the biggest heart and is one of my biggest supporters," adds Nichols, "and we are so thankful for all the help [ESC] always provides us and our community."
Empathy. Compassion. Caring for others. These are just a few of the golden tenets practicing yogis set intentions to live by.
Delp uses the space at Eastern Sky Co Op to help instill those higher vibrational concepts to attendees of its yoga classes and events, while also giving them a respite from chaos that may infiltrate their daily lives.
"In this time of uncertainty, Kay and ESC offer a slice of normalcy, with safe covid practices in place, for a person to escape for an hour on their mat in a beautiful spacious setting," says Burton.
"We're here to put your mind at ease," Delp adds. "We're here to give you a break."
Namaste.
For more information visit facebook.com/pg/easternskyyoga/events/