As many of us are well aware, a lot of restaurants have struggled to stay in business during the novel coronavirus pandemic.
The pandemic has forced restaurant owners to come up with a variety of creative ways to attract customers to their establishments or get left by the wayside.
Some eateries have, unfortunately, had to close their doors because of a huge decrease in revenue. However, there are some restaurants that have not only found a way to tread water during this turbulent time but to actually thrive.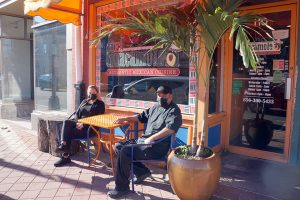 One of those restaurants that's found a way to level-up during the pandemic is El Guacamole Mexican Restaurant in Millville.
El Guacamole, which boasts a wide ranging delicioso menu including Mahi Mahi Tacos, Abuelitas Special Mole, and customized Vegetarian Burritos, plus a whole lot more, is leaving its current location and easing on down the road to 16 North High Street, where Andrea Trattoria Italiana used to take up residence.
El Guacamole will be opening up in its new location before the end of the year.
SNJ Today recently spoke with Paulina Reyna and Eric Herrera, who've owned El Guacamole for five years, to hear their thoughts on their upcoming relocation, how they've been able to grow during the pandemic, the importance of their customers, and more.
SNJ Today: While other restaurants have had to close down because of the pandemic, El Guacamole has not only survived, but thrived—to the point that you're moving to a new location. How have you been able to remain successful during these times?
Paulina Reyna and Eric Herrera: First and foremost, we would like to give a sincere thank you from the bottom of our hearts to everyone who has kept us in business throughout these hard times. We have been lucky enough to stay in business due to all of our loyal and dear customers.
Even though we have remained open throughout the pandemic, it has not been an easy year for us either. There have been good days, but there have also been a few bad ones. The reason for our success and staying afloat is simple, it's because of our customers. Without their support, we wouldn't be able to be where we are today.
What was the thought process that led you to decide that this was the right time for you to make such a big move for the business?
Reyna/Herrera: Moving the location of the restaurant has been in the works for some time now. It just happens that now the opportunity presented itself and we jumped on it. We have always wanted a bigger location so we could accommodate for more of our customers.
Is El Guacamole offering the same menu items as the original, or will there be some differences?
Reyna/Herrera: The menu will stay the same with all of Abuelita's delicious and secret recipes.
SNJ: your opinion, what menu item appears to be most requested by customers?
Reyna/Herrera: We have customers that come from all over and everyone has their favorite dish. I don't think there is a particular favorite because since we get some many different orders from all our wonderful customers.
Regarding menu items and customer service, what can customers expect from El Guacamole?
Reyna/Herrera: We always strive to make the best possible food for all of our customers as well as deliver excellent customer service. We want everyone to always feel like they are part of the family when they … dine in.
SNJ: Will the décor of the new El Guacamole be similar to the old?
Reyna/Herrera: We will be keeping the decor the same. We feel strongly about the colors and decorations we had in our first restaurant and want to keep the same vibe going.
SNJ: Moving from one block on High Street to a block up, you must feel comfortable there. What makes High Street such a special place for you and your customers?
Reyna/Herrera: Throughout our years in Millville, we have come to grow a beautiful clientele and come to know some great neighbors from the surrounding businesses. Our hope is to just keep growing and provide great food for our existing customers and new ones to come.
Is there anything else you'd like to add?
Reyna/Herrera: We will continue to practice all safety guidelines provided by the CDC in hopes that we can accommodate more people to dine inside since the new location is bigger. We are eager and excited for everyone to see how the new restaurant looks.
Once again, we would like to thank everyone who's been with us from the very start and everyone who's just discovered us. Thank you for all the love and support.
For more information call 856-300-5433 or visit facebook.com/pg/El-Guacamole-1387684884893195/menu/