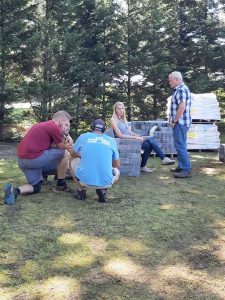 Home improvement shows are all the rage these days. Most of these shows, however, tackle whole-house makeovers that can be a bit overwhelming to the viewer looking for a weekend project to do around the home. Not so for the nationally syndicated Today's Homeowner television show, now in its 23rd season, and its counterpart, the nationally syndicated Today's Homeowner radio show. In those 23 seasons, host Danny Lipford and crew have shown homeowners how to take on smaller home and yard projects—a fireplace and hearth area, a laundry room, a custom closet, a backyard deck.
"It's always rewarding to work with people who have a vision for their home, but aren't quite sure how to get started," said Lipford. "We get a chance to teach them some DIY skills and give them confidence!"
That's just what Today's Homeowner Media hosts of the brand's Emmy-nominated Today's Homeowner television show, Danny Lipford and Chelsea Lipford Wolf, were doing in southern New Jersey late last week as they helped transform Jeff Lynch's Glassboro backyard into an outdoor oasis.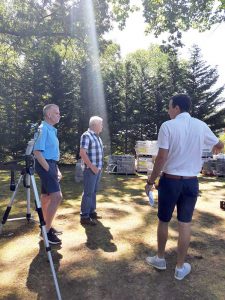 Lynch is this year's winner of the show's annual "Backyard Paradise" contest.
"I'm a big fan of the show, I've watched it for years," said Lynch, who entered the contest with big plans for his backyard. "I have a beautiful, old Dutch Colonial home, but I need a beautiful backyard to complete it. I have wanted a paver patio since I moved into my house four years ago."
Lynch says he never misses the show and has seen many instances where Lipford and his crew have built beautiful patios.
The "Backyard Paradise" contest, sponsored by Today's Homeowner Media, Pavestone and Quikrete, is popular among homeowners, drawing thousands of entrants from nearly every state in the country. The show, based in Mobile, Alabama, has completed projects in 25 states, with this being the first in New Jersey, Lipford told POP FM 99.9 radio hosts Megan Varrell and John Salvatore where the show airs weekly.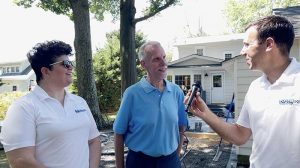 As the winner, Lynch received expert design services to create the backyard of his dreams, labor and installation of a variety of project materials from Pavestone and Quikrete, valued at $10,000.
Additionally, he will appear on a special episode of Today's Homeowner TV showcasing his backyard makeover.
Lipford was excited to take his crew on the road to New Jersey for this special project. During the pandemic, the shows had centered around the Gulf Coast area.
"Chelsea and I look forward to working with Jeff on his outdoor area," he said. "I think he and our audience will love how it all turns out."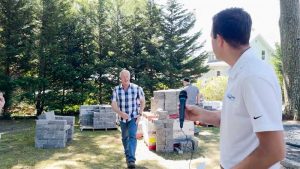 Lynch told Lipford he was looking forward to having an attractive, usable paver patio, a grilling station, a fire pit, and a nice seating area in his new backyard.
The team was set to build even the chairs for the seating area out of pavers. Lipford said he had never seen that done before.
"The pandemic drove us outside the home a lot more," Lipford said in describing why the Backyard Paradise contest and outdoor projects in general have become so popular lately.
When Lynch received news of winning the contest, he was in shock. "I never win anything! Hearing Danny's voice on the other end of the phone—I thought it was a dream. It took a few minutes for it to sink in." And, as far as being featured on national television, Lynch said, "It's so surreal, but I know it's going to be a blast. I'm a social guy, not shy at all."