Black History Month is an opportunity for people of all cultures and ethnicities to learn more about and to celebrate the contributions that the children of Africa have made to human civilization.
It's a chance to become enlightened about people like Mark Dean, an IBM Fellow who holds patents for inventing the first personal computer in 1981. Or Garrett Morgan, who in 1914 received patents for the Safety Hood and Smoke Protector, which later became known as the gas mask. Many people comprehend the importance of this particular invention, including lawmakers who were trapped inside the United States Capitol building on January 6.
It's a chance for people to learn about noteworthy scientists like Dr. Charles Drew, who according to the book, Black People And Their Place in World History, by Dr. Leroy Vaughn, says Dr. Drew "made possible the availability of stored blood plasma for blood transfusions," since used by the American Red Cross and hospitals all over the world.
It's also a chance for all to learn about the inspirational stories of trailblazing women of African descent like Dr. Jane Ellen McAllister, the first African American woman to earn a Ph.D. in Education in the United States, in the early 1900s.
Then there are the adventures of Mo'ne Davis, the first girl to pitch a shutout in the Little League World Series; Bessie Coleman, who, according to pbs.org, was "the first African-American woman and also the first Native-American descent female pilot"; and, Bessie Blount Griffin, a nurse, inventor, and forensic scientist. In the 1970s, Blount Griffin taught the police departments here in Vineland and in Norfolk, Virginia how to maneuver through (at the time was the) burgeoning field of forensics. Blount Griffin passed away in Newfield, NJ in 2009.
One of the coolest things about history is that it doesn't always have to deal with events that took place in the past. History is constantly being made in the present. There continue to be brilliant, forward thinking, caring, risk-taking, successful African Americans who kick down doors and shatter glass ceilings in the name of community, of progress, and of doing their part to uplift the human race. Think about our current vice president of the United States, Kamala Harris.
Much closer to home, Dr. Elizabeth Arthur also qualifies as a trailblazer and glass ceiling shatterer. In January, Dr. Arthur, became the first African American and first woman to hold the position of Vineland City Council President.
She chose to serve as the council's president after receiving the most votes out of everyone who ran for Vineland City Council in the 2020 election. Dr. Arthur, who initially became a city councilperson in 2018 when Angela Calakos moved out of the city and vacated her position on Council, was stunned the day after the election.
"I think the next morning when I woke up after the election when they finally did the count, I was like 'Oh my God, I can't believe it happened,' " said Dr. Arthur, who's also an adjunct professor at RCSJ Cumberland Campus and Raritan Valley Community College. "I wasn't expecting it."
Dr. Arthur grew up in Wilmington, NC, and knew at a young age that she wanted to be an educator.
"I've always wanted to be a teacher and I think that came from being in the south," she revealed. "We lived in a community where everybody knew each other, everybody looked out for each other. And we had teachers in the community."
There was one teacher in whom a young Dr. Arthur was particularly impressed. "She was a Baptist church member, but we are AMA church members, but she didn't care about that. She didn't care who you were, she'd come get you if necessary," Dr. Arthur said with a laugh.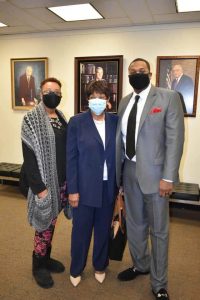 After spending some of her teenage years in New York, she moved to Vineland while in her 20s, and has called Cumberland County home ever since.
The path Dr. Arthur took to get to where she is now was challenging, yet ultimately fulfilling. Throughout the years, she got married and worked at the Boy Scouts of America. She worked a couple of jobs attained through Manpower, a staffing agency, had three children, got divorced, and was "temporarily" employed with Wheaton Glass for 23 years.
When she was at Wheaton's, she began ascending the ladder, starting off as a clerk in the purchasing department, becoming administrative assistant to the vice president of purchasing, then moving into corporate purchasing.
All the while, Dr. Arthur spent her "free" time going to college to pursue her childhood dream of becoming an educator. "I tell people I was crazy back then," she mused.
"I don't even know why I did it—but I got through it. Once you put your mind to something and you set up your schedule and you organize yourself you can do anything."
She began this portion of her journey taking classes part time at Cumberland County College (RCSJ). The professor spoke endearingly about her experience at the local college.
"It was convenient to be here, first of all, and then to set up a schedule that would work around my work and my family, it was just ideal," said Dr. Arthur. "I couldn't have gone anywhere else. It would have been too much of a struggle for me."
She also gave props to her professors.
"The instructors here were, I would say, very accommodating, because they knew I worked," said Dr. Arthur. "I started part time and I just kind of worked on it, chipped away at it, and they kind of guided me during the process. So, I really appreciate those instructors that I had over the years." One particular professor who stood out to her was English professor Sharon Kewish, who retired in 2018 after nearly 50 years of service at the college.
After receiving her Associate Degree in Business Administration from CCC/RCSJ, she continued on her higher educational path, receiving a Bachelor's from Thomas Edison State University in 2006, getting an Executive MBA with Georgian Court (on the RCSJ Cumberland Campus) in 2008, and then received her Doctorate of Business Administration from Walden University in 2016.
Meanwhile, she was still working and was employed by companies that allowed her to travel to Tampa, Florida; Marlton, NJ; and even Germany. Also, during this time, she began pondering how she could serve the community she so dearly loves.
Dr. Arthur got involved with the Parent Teacher Organization and also served on the Vineland School Board of Education. Then in 2018, Vineland City Councilperson David Acosta, who worked with the professor on the school board, planted a seed in her mind about joining the city council.
"What piqued my interest," said Dr. Arthur, "is one of my classes [at] Thomas Edison. It talked about … being community-minded and working in the community and giving back. And I was like okay, this is a good opportunity to do something in the community to give back and try to help improve the quality of life, if nothing else."
She then had a meeting with Mayor Anthony Fanucci and the city clerk.
"We had received interest from a number of qualified individuals who wanted to serve the residents of Vineland," Mayor Fanucci said. "After much discussion among team members, we felt that Elizabeth was the right choice.
"Elizabeth is a highly respected member of the Vineland community, who has demonstrated her commitment to consensus building and problem solving," he continued. "Her addition to City Council also reflects the diversity in our community and my administration, which, as I have said, is a strength we should all embrace."
As a Vineland City Councilperson, and now as president, Dr. Arthur naturally brings a different perspective to the table. "Not just as a woman, but as an African American and somebody who has worked in the business industry, other than city government," she said. "I've been in the private sector."
In her role as Vineland City Council President, one of her goals is to be fair and equitable.
"And now I sit on the Diversity, Equity and Inclusion (DEI) committee at (RCSJ), so it's even more prevalent to be conscious of what we do in the city as far as diversity, equity and inclusion is concerned," said Dr. Arthur. "So, I try to bring that to the table."
Her inclusive mentality and her caring persona has left a deep impression on many of her peers, including those at RCSJ Cumberland.
"Dr. Elizabeth Arthur is a stalwart member of the RCSJ family," said Nathaniel Aldridge, office of diversity and equity. "In addition, she has served on numerous special committees including the current DEI Strategic Plan in a leadership capacity—herein, she understands the role higher education can play in combating systemic racism and addressing other social ills."
"Dr. Arthur has a patient, caring, kind personality," said Dr. James Piccone, vp/chief administrative officer, RCSJ Cumberland Campus. "Being a compassionate person, she has sensitivity to students' differences, particularly with learning, and awareness that learners have individual needs and abilities. Dr. Arthur's dedication and love of teaching is evident through her commitment to student success."
Dr. Arthur's kind nature was nurtured by her grandmother who taught her to "treat people not how they treat her but the way she wants to be treated" and by her mom who taught her to "Be sweet." Her compassion for others might be a big reason why she was able to shatter the glass ceiling to become the first woman and African American to become Vineland City Council President.
The impact of this monumental achievement has left an indelible impact on her family, as well.
"Pride is the first thing that comes to mind …," said her son, Dale S. Arthur, Jr., a respiratory therapist.
"Growing up, she always pushed us to go the extra mile, so seeing her accomplish this just makes me wonder what's next. We were all super excited, but grateful to see her have an opportunity to give back to the City of Vineland."
Dr. Arthur is also happy to give back by sharing some sage advice for young women of color who may want to follow in her footsteps to become leaders in their community and beyond.
"I would tell them to never give up, don't be afraid to dream," Dr. Arthur said. "You set a goal and you say you're going to do it and sometimes things get in the way. It's just like being on the highway taking a journey. You might have to take an exit once in a while and that's okay. Take the exit. Get yourself back together, but get back on the road and just keep going until you get to your destination."
Dr. Arthur is continuing the legacy of brilliant, forward thinking, caring, risk taking, successful African Americans who have overcome a plethora of obstacles to reach the highest of heights.
This is what Black History Month is all about.