Inspira Health now welcomes walk-ins at the vaccination distribution sites on the medical center campuses in Vineland and Mullica Hill. Inspira Health has administered over 81,000 vaccines since it opened the two sites in late December 2020.
The two locations are:
• Inspira Medical Center Mullica Hill, 700 Mullica Hill Road, Mullica Hill, NJ 08062
• Inspira Medical Center Vineland, 1505 West Sherman Avenue, Vineland, NJ 08360
The current hours of operation are: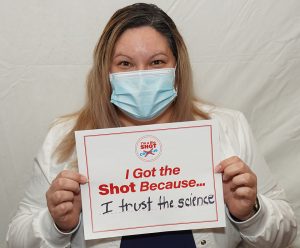 Monday, Tuesday, Thursday, Friday: 8 a.m. to 6 p.m.; Wednesday: 7 a.m. to 7 p.m.; Saturday: 9 a.m. to 1 p.m.
Minors (under 18 years old) must bring a form of ID that shows their date of birth (i.e. driver's license/permit, passport, birth certificate, etc.). Additionally, minors must be accompanied by a parent/guardian who is authorized to sign an informed consent for the minor's vaccination.
There is no cost to receive the vaccine. There is an administration fee that will be charged to your insurance. There is no out-of-pocket expense to you. For the most up-to-date information about Inspira's vaccine distribution program, visit InspiraHealthNetwork.org/Covid19. NJ residents can call 1-855-568-0545 for vaccine registration assistance.