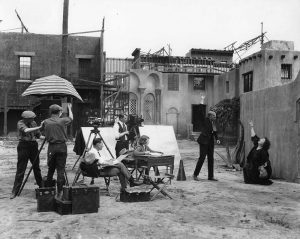 This year's Oscar contender Trial of the Chicago 7 may have been shut out of any Academy Awards last month, but its cinematic sleight-of-hand is probably not lost on North Jerseyans. That portion of the Garden State substituted for the movie's Illinois setting, with scenes shot in Paterson, Newark, Clifton, Hoboken, Montclair and Madison. Like other motion pictures recently filmed in New Jersey, it can be viewed as a sort of homecoming to the region once recognized as America's movie industry capital.
Just over a century ago, New Jersey was teeming with film studios cranking out silent pictures with such stars as Douglas Fairbanks, Mary Pickford, Lionel Barrymore, W.C. Fields and Lilian Gish under the direction of such notables as D.W. Griffith, Mack Sennett and Raoul Walsh. There were independent studios as well as the earliest incarnations of what are some of today's top movie corporations, all in a competitive co-existence in the recently formed borough of Fort Lee, New Jersey.
And so, 136 years after George Washington commenced his November 1776 retreat from the British on what became Fort Lee's Main Street, the same roadway was being used by Griffith to direct Pickford, Barrymore and Gish in The New York Hat.
The circumstances that precipitated a growing film industry in this region of New Jersey was a mix of practicality and luck. The location was just across the Hudson River, a ferry-boat ride away for Manhattan stage actors looking to make their mark in cinema. Like New York City and Chicago, which were also attempting to strike cinematic gold at the turn of the 20th century, Fort Lee and its surroundings could easily accommodate movies requiring contemporary settings for comedies or crime dramas. What set the Bergen County location apart, as Manuel Moreno notes in his NJ Monthly article "Out of the Shadows," was that "Fort Lee and the sheer cliffs of the Palisades offered fertile staging grounds for Westerns and historical epics."
But the genre possibilities didn't end there: Undeveloped areas could be transformed into Sherwood Forest or Civil War battlegrounds and locations with waterfalls helped to enhance fantasy settings.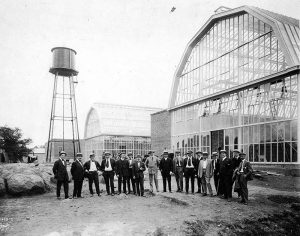 The Barrymore Film Center website identifies the Champion Film Company, established in 1908, as the "first permanent film studio" in the Fort Lee/Coytesville area, calling it "New Jersey's busiest production center." Also in 1908, Biograph Studios began its extensive use of the locations the region offered filmmakers. Griffith, onboard from the start as one of its directors, amassed a significant output of short films by the time of his 1913 departure.
Independent Motion Pictures began making movies in Fort Lee in 1909. Within three years, it would merge with Champion, Éclair, Nestor and several other studios to create Universal, which wisely chose to continue use of the Champion facilities in Coytesville. That structure, one of the few vestiges of New Jersey's early film history throughout the 20th century, was razed in 2013.
The nj.com website reports that "after Universal set up its Fort Lee facility, competitors came to town. A rival studio, Fox Film Corp., leased a neighboring complex with a lab and two glass buildings, allowing directors to use natural light instead of glaring lamps." Other recognizable names included both the Metro and Goldwyn Pictures Corporations, precursors to MGM, and Selznick Pictures.
Over the years, the Fort Lee studios turned out an impressive variety of pictures that include adaptations such as Robin Hood (1912) and Camille (1915) and originals like the Perils of Pauline serial (1914), which, thanks to its Palisades setting, may have contributed the word "cliffhanger" to our vocabulary.
One of the more interesting undertakings was Eclair Moving Pictures Company's Saved from the Titanic, about the 1912 disaster at sea that appeared only weeks after the tragedy had occurred. Of note is the fact it starred Dorothy Gibson, an actress who had actually been a passenger on the luxury liner when it sank in the Atlantic Ocean and who survived by boarding Lifeboat 7, which was later rescued by the Carpathia.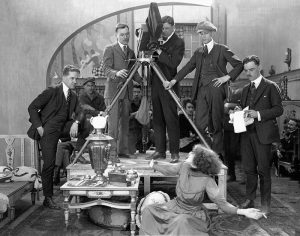 Frank Thompson's Film Comment article "Lost at Sea," assesses that for the 10-minute, one-reel film "to have been completed less than three weeks after the disaster and released one month to the day after the Titantic sank, Dorothy Gibson must have leapt off the Carpathia, hopped into a cab and shouted, 'Get me to Fort Lee.'"
The last known prints of this first cinematic tale were destroyed in a studio fire in 1914, rendering it one of many lost films from the Fort Lee era of filmmaking. Another is the very first Marx Brothers film, 1921's Humor Risk, shot in Fort Lee and screened only once in the Bronx, after which the sole print of the movie vanished. Fans are left to sift through the various reasons given for its disappearance, which range from intentional destruction after a poor premiere reception to accidental abandonment following the Bronx screening.
But there are no ambiguities surrounding the other missing Fort Lee prints. "Back when filmmakers first began burning images onto celluloid," nj.com explains, "they used a highly flammable photochemical mix and lots of prints were destroyed in blazes" that resulted from explosions in labs and storage units. Even as late as 1937, prints were being reduced to ash. That year, nj.com says, "Fox's Little Ferry film vault exploded… [destroying] scores of silent Jersey movies…" Moreno reports that "historian Paul Spehr estimates that 80 to 90 percent of the movies made in Fort Lee were lost forever."
By the 1930s, however, films weren't the only things disappearing in Fort Lee. An exodus that would relocate the big studios to the friendlier climate and spacious locations of California left only the smaller independent studios in the once thriving New Jersey film colony. The resettlement had begun as early as 1911, when Bayonne-based Nestor Studios built the first film facility in Hollywood. Over the next two decades, other companies followed, and, with each new addition, Hollywood usurped the position previously held by Fort Lee as film capital of the U.S.