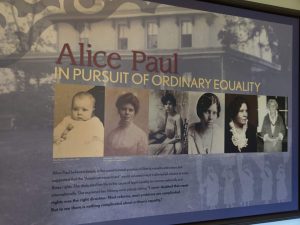 It's getting cooler, the holidays are upon us and Bridgeton Public Library is open! Hours are Tuesday through Friday 10 a.m. to 5 p.m. and Saturday 9 a.m. to 4 p.m.
The library's virtual Story Time program has taken to the road visiting interesting, fun, and educational places around South Jersey. On-the-road story times in December take you to the Millville Army Air Field Museum, to the Menantico Ponds in Millville where we interview Karla in a canoe, and to the Endicott-Reardon Family Museum in Ocean View where Harriet Reardon Bailey shows us 100 years of her family's treasures, and reads us a Christmas story by the tree.
On The Road with Ms. Adaria can be seen every Tuesday at 10:30 a.m.—or any time after the premiere—on BPL's You Tube channel.
In honor of the 100th Anniversary of the ratification of the 19th Amendment, the library is presenting Votes for Women, the travelling pop-up Alice Paul Museum Exhibit through mid-December.
Patrons are required to have their temperature taken upon entering, wear their masks at all times, maintain social distancing, and observe time limits of their stay.
BPL is located at 150 E. Commerce Street in Bridgeton. Phone is 856-451-2620 or visit bridgetonlibrary.org.