The real estate industry, like many others, has experienced many ups, downs, and surprises during the novel coronavirus pandemic.
Experts across the industry have spoken about the versatility of the real estate market.
According to an article on fortune.com, "The Covid-19 pandemic, the loss of millions of jobs, a weaker economy—none of it stopped millions of house hunters from flocking to Zillow, Redfin, and other online platforms to browse, plan their move, and, in many cases, purchase their first home."
SNJ Today spoke with several local, highly qualified real estate agents—Naomi Kenelia, a 2020 Bronze New Jersey Realtors Circle of Excellence Sales Award winner, from Keller Williams Realty; Robin "RCB" Carter, who won a leading edge award from BHHS and Circle of Excellence Award from NJ Realtors, with Berkshire Hathaway HomeServices Fox and Roach; and Jill Santandrea, a 2020 Silver New Jersey Realtors Excellence Sales Award winner from Exit Homestead Realty Professionals—to get their views on the effect the coronavirus has had on the housing market, their clients, and themselves.
SNJ Today: How has the pandemic impacted the real estate market?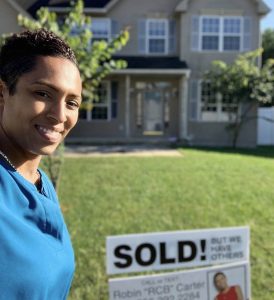 NK: As far as the real estate boom, the deep recession that hit the U.S. economy, in light of the pandemic, forced the Federal Reserve to lower interest rates dramatically, driving the average mortgage rate from around 3.75 percent at the beginning of 2020 to under three percent just a few weeks after the pandemic set in.
That drop made buying a home more feasible for many potential buyers, also allowing buyers to afford more expensive homes with the same monthly payments. Those buyers who were sitting on the fence are now more inclined to buy.
RCB: I believe people are looking around their living situation wanting a change. Many people have outgrown their homes, unnoticeably, until now. Whether people are in an apartment, house, or living with family, they have realized that more space is needed for them to accomplish things, such as work or learn from home. The pandemic has put greater emphasis on personal and functional space.
JS: It has been a year, no doubt! It has taught me, more now than ever, the importance of dedication to knowing the market trends, demands, and restrictions to help my clients to the fullest. My experience and education have elevated drastically during the pandemic, which I find to be a key element to my success.
How has the pandemic affected supply and demand?
JS: Supply was low overall in New Jersey and demand of buyers was at an all-time high. Keep in mind, the market and interest rates go hand in hand. We have a lot of buyers still looking for their piece of the "American Dream."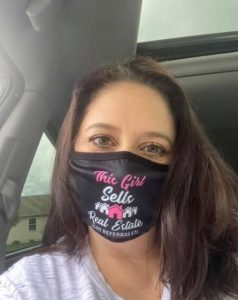 RCB: Much of what people are noticing is supported by the lowest interest rates we've ever seen. The low interest rates have increased the buying power; therefore people are qualifying for more and are able to afford more house for the payment overall. As the purchase power is strengthened, the supply of homes to support this buying power has not been able to meet the demand.
NK: A number of sellers—concerned about the economy, their jobs, and/or having strangers enter their homes—delayed putting their homes on the market, leading the supply of homes available for sale to drop nearly 30 percent from a year earlier.
What kind of changes do you foresee taking place in the field of real estate due to the pandemic?
NK: Where people choose to live has traditionally been closely tied to where they work, which has helped push home values up very strongly in fast-growing urban job centers. Now that more than half of employed Americans have had the opportunity to work from home, a vast majority want to continue, thus allowing them to own a home away from their job centers in more affordable suburban areas.
JS: Just like many other fields, real estate has become layered with virtual tours and Zoom calls while still showing homes traditionally with new protocols such as masks, gloves, shoe coverings, sanitizer and of course social distancing guidelines.
RCB: In my opinion, because the pandemic is "supposed to be a temporary situation," we as agents need to consider the long-term effects for our clients and that we hear what they are saying even if the words have not come out of their mouths.
As the general public becomes more educated about the true meaning of home ownership, I see a quicker turnover rate and people actually owning homes five to 10 years and not for 30 to 40 years like many homeowners of the past. Equity is everything and for those who are not being protected or guided with care … the result will be short sales being a thing of the future in four to five years.
What advice do you have for people currently looking to purchase a home, but fearful to do so during these challenging times?
RCB: One, interview a few Realtors and choose one to work with. Buying a home now requires really developing a strong portfolio in order to get your offer accepted. Trying to buy a home without building a rapport with a realtor is going to have the buyer sitting on the sidelines hoping or wishing … Two, get prequalified and have your ducks in order. Many buyers want to see a home before getting prequalified. These buyers will get left behind …
Three, seek understanding, communication and value. [F]ear goes away once you have the proper guidance with a plan in place to be executed. Everyone's situation is different, so understand your situation, your buying power and your expectations vs. the current market.
JS: I ask them to just call me. Let's talk about their concerns so I can let them know if accommodations can be met. If they cannot purchase a home now, I will be honest and we can put a plan in place for their future together.
NK: Mortgage rates reached historic lows in 2020, but experts believe they'll rise quickly in 2021. Now may be a good time to buy if you want to lock in those low interest rates and seize a great opportunity to buy a home even if prices are an average five percent higher than 2019 prices. The benefits of the low interest rates still outweigh the increase in home prices.
What lessons have you learned during the pandemic that will help you improve your skills at being a real estate agent?
NK: To quickly adapt to changes in this continuously evolving real estate market allowing me to serve and guide my clients to their ultimate goal. Protecting sellers' safety by implementing the necessary protection guidelines for buyers entering their homes.
Also, providing alternatives to live showings such as virtual tours and video tours, if preferred. In these unprecedented times, thinking outside the box is crucial to ensure my clients get the results they deserve.
RCB: When presenting an offer, if your agent is well-respected in their community, and well liked could be the difference in getting your buyer's offer accepted. Co-broker relationships are a two-way street. I work on my communication and follow-up skills to make working with me productive and enjoyable.
JS: Since March, I have dedicated my brand to being knowledgeable of the industry, more than ever. I also went back to school to become a licensed agent in Pennsylvania. Additionally, I have added a minimum of six hours a week with training, reading, and studying. This has been critical for continued self-growth and maximizing my client's experiences.
Is there anything else you'd like to add?
JS: I am the professional in my field. Ask me your real estate questions. Just like I would ask an electrician or plumber for advice in their field, I want you to call me for real estate help. Continue to have trust in the process. I truly love to be an advocate for people, and I look at every new relationship as an honor.
RCB: During the pandemic, I think it's the best time to put a five-year plan together and see if homeownership or selling makes sense. Realtors shouldn't be called when you're ready. They should be called during the planning process to help guide for the best outcome.
[Also], I am a former, early-retired elementary teacher and college adjunct professor. In real estate, I still have the teacher in me, and I use my skill to educate those about homeownership and challenges. I still consider myself a public servant in my community. My clients always end up becoming great, lifetime friends and I enjoy meeting new people and helping them.
NK: Besides the financial benefits of owning a home such as home appreciation, mortgage interest deductions, property tax deductions, [etc.], the personal, what life is all about benefits, such as being able to set long-term goals of investing in that kitchen of your dreams, paint the walls any color you desire, black? Green? Whatever you want.
Invest in a quality show stopping couch that fits in your permanent new living room. You can. It's all yours. At the end of the day, there's nothing like being a master of your own domain. Home sweet home.