One of Cumberland County's most influential members of its vibrant community theater scene recently won a prestigious award in recognition of all his hard work and dedication.
Walter A. Webster, of Bridgeton, music/drama teacher at Commercial Township School, received the coveted NJACT Lifetime Achievement Perry Award.
"Total shock and disbelief," was Webster's response when he learned that he was the recipient of this distinguished honor. "I had no idea what was happening and remained speechless for a couple of days."
The 2020 NJACT Perry Award ceremony was streamed live on October 25, for safety precautions, due to the current Public Health Emergency.
According to its website, "The NJACT Lifetime Achievement Award is … given each year and celebrates a special individual's outstanding, lifetime contribution to New Jersey Community Theater."
Webster, co-founder of premier regional theater company, The Off Broad Street Players (OBSP), fell in love with the performing arts at an early age.
"I attended a performance of Rodgers and Hammerstein's Oklahoma! in the fourth grade at my alma mater, Bridgeton High School," Webster recalls. "One of the directors was my longtime friend and mentor, Mr. Austin P. Gould, who later became my piano teacher."
(Gould, himself, was a recent recipient of the Cumberland County Legends 2020 award for his "unwavering dedication and lifelong commitment to making Cumberland County a better place to live and work," along with Dr. Thomas A. Dwyer and the Trout Family.)
After seeing Oklahoma! Webster's purpose in life became as clear as a bright, sunshiny day.
"I was going to become a performing arts teacher and direct plays," Webster says. "The experience was a true, life changing moment. The live music, the acting, the singing, and the dancing spoke to me and told me this is where I belong."
Webster has directed nearly 200 stage productions and has acted and performed in dozens more, throughout his prodigious performing arts career.
According to Webster, who has devoted a substantial amount of time and energy during his decades of service in the performing arts, theater is more than just a place for people to escape from their daily lives.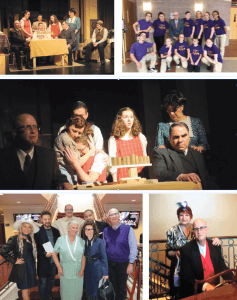 "The theater is a reflection of the society in which we live—good and bad," he explains. "The theatre is not meant to merely entertain; but to educate and inspire.
"There are stories that need to be told, songs that need to be sung," he continues. "I love bringing these stories theatrical life. They inspire me, they anger me, they make me happy—it is the story that my cast is trying to tell that continuously makes me want to create."
Webster expresses his thoughts about the familial type atmosphere that is cultivated in the world of performing arts.
"There are many people who I am truly blessed to call 'family' because of the strong bond the theater creates," he says. "Once you complete a show, you have connected with everyone involved. They become your extended brother, sister, mother, father through this shared experience. It is, indeed, my home away from home."
Webster, lists Fences by August Wilson, A Raisin in the Sun by Lorraine Hansbury, The Diary of Anne Frank, Driving Miss Daisy by Alfred Uhry, and Fiddler on the Roof by Joseph Stein, as some of the plays he loved directing the most.
"The role of Tevye is an actor's dream" says Webster regarding Fiddler on the Roof, "and I have had the privilege to direct three outstanding performances by Basil Antonelli, Richard Curcio, and Kurt Sparks."
Curcio, along with Kaitlyn Layton, nominated Webster, who's also been an organist at both West Park United Methodist Church in Hopewell Twp. and Trinity United Methodist Church in Bridgeton for more than 30 years, for the NJACT Lifetime Achievement Perry Award.
"Mr. Webster has had an enormous impact on the Cumberland County theater community," says Curcio, associate professor of history/political science at Rowan College of South Jersey – Cumberland Campus. "In his career, he has achieved tremendous success at every level that he has directed—elementary school, high school, and community theater."
Curcio is alluding to the fact that throughout Webster's illustrious career, he's directed plays and musicals at Sacred Heart High School, Commercial Township School, and Cumberland Players, as well as OBSP, plus more.
"Few of the theater people in Cumberland County have not worked with, been influenced by, or benefitted from the work of Walter A. Webster," Curcio concludes.
There are others in the local theater community who share similar sentiments.
"He has the gift of inspiring talented creative people and engendering incredible loyalty among many who work with him," says Heidi Dugan, creative and artistic officer with For the Whim Productions.
Dugan, who's also a technology teacher for Bridgeton Public Schools, credits Webster for the positive role OBSP has played in Cumberland County.
"In founding the Off Broad Street Players, Walter expanded the theater opportunities in the area, which is always a good thing," she says. "He brought his heart into OBSP right from the beginning and he and his group of founders started something that would eventually inspire countless performers and patrons throughout the area."
For Lois-Anne Lea Weiner, who Webster asked to join in helping him start OBSP, along with Lynn Holding, singing the award winner's praises is easy as pie.
"Walter is not only a brilliant musician, director and actor, but he is also sincere, kind and generous with his talent," Weiner reveals. "He is my very dear friend who has not only brought joy to our theater community, but who has guided his students and casts to achieve their very best and has encouraged those to continue wherever their passion took them in the arts."
Webster has made innumerable, significant contributions to the world of New Jersey Community Theater and has left an indelible, beneficial impact on the local community, as well. He is humbled, honored, and grateful for everyone who has been a part of his lifelong journey of helping to "promote and foster the performing arts in Cumberland County."
"I would personally like to thank all of the original Board members of OBSP for believing in me and working so diligently to create an organization that is now enjoying the benefits of a spectacular, permanent home (at the Levoy Theatre)," says Webster. "I want to thank all of my students and actors of yesteryear and today for their kind words. I just want to give back what was given to me, which is a joyous life of both music and theater.
"It's our job as human beings to pass on what we know to the next generation. That is my mission."