VHAS Hosts A.J. Meerwald Book Presentation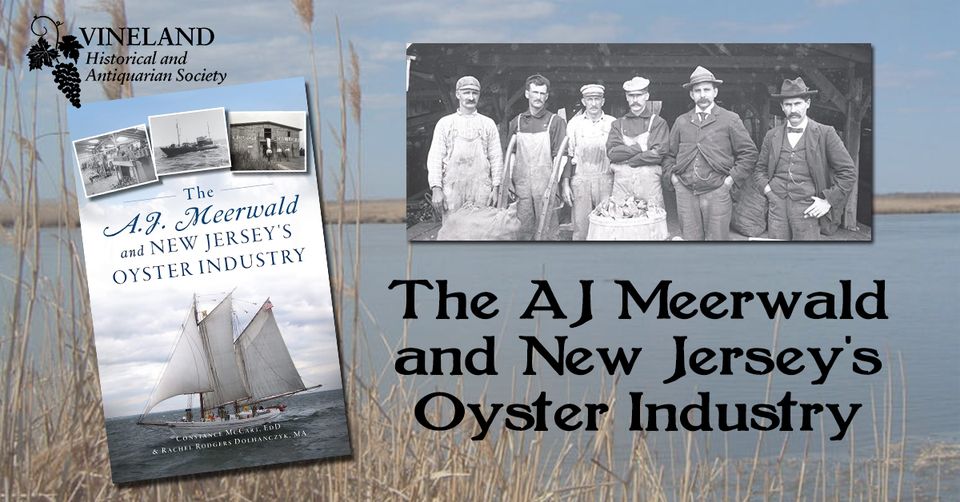 On Saturday, April 2, the Vineland Historical and Antiquarian Society (VHAS) is hosting the "A.J. Meerwald and New Jersey's Oyster Industry" book presentation with co-authors Constance McCart, EdD and Rachel Rodgers Dolhanczyk, MA. This event takes place online via Zoom and in-person at the museum, located at 108 S. Seventh St., in Vineland.
McCart and Dolhanczyk will share memorable stories about the interesting experiences and journeys of the nearly 100-year-old A.J. Meerwald schooner and its importance to South Jersey's once booming oyster industry.
The newly-released "A.J. Meerwald and New Jersey's Oyster Industry" books will be available for purchase at the event from the authors, who will also sign them per request.
The presentation begins at 1:30 p.m. To register on Zoom, please go to https://forms.gle/9vgdx7SXoyUD4r8E9. The Zoom link will be emailed to online attendees prior to the event.
The A.J. Meerwald and New Jersey's Oyster Industry book presentation event is free to the public, however, a $5 donation is suggested and appreciated. All donations directly support the magnanimous mission of VHAS.
For more information, please contact us at 856-696-1111 or VinelandEvents@gmail.com. You can also learn more about the fascinating history of Vineland, plus future events, by visiting us at discovervinelandhistory.org or at facebook.com/discovervinelandhistory.org.