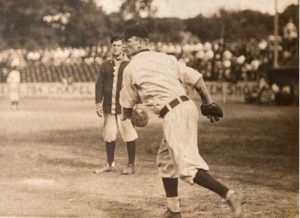 Southern New Jersey, and Millville in particular, has produced its fair share of baseball standouts who have gone on to play in the majors. For a presentation on one of the earliest—Floyd Clunn—join the Millville Historical Society on July 10 at 1 p.m. at 821 Columbia Avenue (parking in rear off Church Street). Using Clunn's own photos and his correspondence with fiancée Edith Ackley, the presenter, Mickey Smith, will discuss Clunn's life and role in early Millville history.
Floyd Clunn (1886–1961) was widely known in the baseball world during the early 1900s. After graduating Millville High School in 1904 and the South Jersey Institute in 1906, he played semi-professional baseball throughout southern New Jersey until he was eventually picked up by the New York Yankees.
However, he was soon sold to the Bridgeport (CT) Mechanics of the New England League, where he played during the 1910 and 1911 seasons as "Chalky" Clunn. Thereafter he played in the Tri-State League of Delaware, Pennsylvania and New Jersey, where, as a left-handed pitcher, he became known as "Lefty" Clunn.
In 1915 he moved briefly to the Western League and played part of the season for the Topeka (Kansas) Savages. But he left abruptly in July of 1915 and returned to Millville, where he married his sweetheart, Edith. With baseball behind him, and in order to support his family, he established a framing shop and garden center in Millville. He also continued to pursue his interest in painting and drawing.