A regional drunk driving prevention organization and the Vineland Police Department have joined forces in an effort to show local residents the importance of designated drivers.
A new Ford Explorer, driven by Sgt. Terry Hall, is being called a "rolling billboard" that will promote the mission of the John R. Elliott HERO Campaign for Designated Drivers.
"We established it in memory of our son, Navy Ensign John Elliott, who was killed in a collision with a drunken driver on Route 40 near Woodstown on July 22, 2000," Bill Elliott, John's father, said to SNJ Today. "Our mission is to prevent drunk driving tragedies by promoting the use of safe and sober designated drivers."
"Since its inception in 2000, the HERO Campaign has continued to grow and is now active in seven states," Mayor Anthony Fanucci, of Vineland, told SNJ Today. "The Campaign is credited with helping to reduce alcohol-related fatalities and incidents, including a 35 percent reduction in DUI fatalities in New Jersey and other states over the past decade."
Along with Vineland, seven other New Jersey cities: Atlantic City, Evesham Township, Linwood, Lower Township, Middle Township, Ocean City, and Sea Isle City are participating in the HERO Campaign and are showcasing their own DUI prevention vehicles.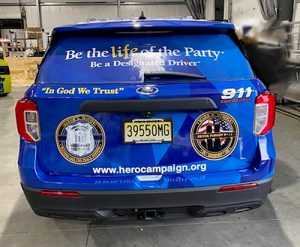 Mayor Fanucci says the new Vineland police cruiser "will be highly visible on the roads, at special events and on visits to area schools or community organizations."
According to a press release, the bright blue and yellow HERO Campaign logo with the message "Be a HERO. Be a Designated Driver." is prominently posted on the car.
While the new HERO Patrol Car is a mobile advertisement spreading the word about the significance of designated drivers, it will also serve as a memorial to a couple of fallen Vineland residents.
Decals in honor of Vineland Police Sergeant Baron McCoy and Mark R. McGinly, are placed on the back of the vehicle.
Sgt. McCoy, who was a member of the Vineland Police Department Traffic Safety Unit, police chaplain and pastor at his church, passed away in 2015, after battling cancer. McGinly was one of the nearly 3,000 people who perished during the terrorist attack on the Twin Towers on 9/11.
McGinly's parents, William and Patricia, close friends of Elliot's parents, Bill and Muriel, first brought up the idea of sponsoring a HERO car in Vineland and then donated the HERO wrap for the police cruiser.
"We are proud to partner with the HERO Campaign in our common commitment to preventing deaths and injuries resulting from drinking and driving," Mayor Fanucci said in a press release. "The more we can engage the community by encouraging safe driving and good decision making, the more lives we will save and injuries we will prevent."
The mayor thanked the McGinlys and Councilman Paul Spinelli for their involvement in getting the campaign on Vineland's roads.
Bill Elliott is also appreciative his organization was able to connect with the Vineland Police Department.
"We are proud to partner with the Vineland Police Department on this HERO Patrol Car and our life-saving program to make Vineland safer and prevent other families from experiencing the pain of losing a loved one to a drunk driver," Elliott said to SNJ Today.
"Losing a loved one to a drunk driver is completely avoidable," Mayor Fanucci told SNJ Today. "As Bill Elliott often says, 'We have a cure for drunk driving, it's called a designated driver.' Honoring the memories of Baron and Mark in this unique way can only help save lives and make Vineland a safer place to live."
"We are proud to sponsor something so beautiful and important, and honored by the tribute to the memories of our son, John Elliott and Sgt. McCoy," Bill McGinly said in the release.
"It brings tears of joy and sadness," McGinly's wife Patricia added, "knowing that their legacies are helping to save lives." n
For more information about the HERO Campaign for Designated Drivers, visit herocampaign.org or call 609-626-3880.